Nemesis (Hardcover)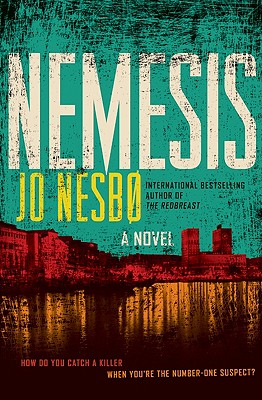 Description
---
"Nesbø's storytelling abilities are incomparable. Nemesis is crime novel as art form and great entertainment."
—USA Today
The #1 international bestseller from one of the most celebrated crime writers in Europe—the New York Times bestselling author of The Snowman—Jo Nesbø's extraordinary thriller Nemesis features Norwegian homicide detective Harry Hole, "the next in the long line of great noir crime detectives," (San Diego Union-Tribune) in a case as dark and chilling as an Oslo winter's night. The second Harry Hole novel to be released in America—following the critically acclaimed publication of The Redbird—Nemesis is a superb and surprising nail-biter that places Jo Nesbø in the company of Lawrence Block, Ian Rankin, Michael Connelly, and other top masters of crime fiction. Nesbø has already received the Glass Key Award and the Booksellers' Prize, Norway's most prestigious literary awards. Nemesis is proof that there are certainly more honors in this extraordinary writer's future.
*Edgar Nominee for Best Novel of the Year
About the Author
---
A musician, songwriter, and economist, Jo Nesbø is also one of Europe's most acclaimed crime writers, and is the winner of the Glass Key Award, northern Europe's most prestigious crime-fiction prize, for his first novel featuring Police Detective Harry Hole. Nesbø lives in Oslo.
Praise For…
---
"Assured, complex, and evocative."
— Seattle Times

"The high-intensity action is threaded through a series of Chinese boxes revealing one false solution after another before the brilliantly inventive final twist."
— Kirkus Reviews (starred review)

"[A] beautifully executed heist drama... . Expertly weaving plot lines from Hole's last outing to feature the inspector, The Redbreast (2007), Nesbo delivers a lush crime saga that will leave U.S. readers clamoring for the next installment."
— Publishers Weekly (starred review)

"Nesbo returns with another novel that is every bit the multitextured, complexly plotted, psychologically rich thriller that made Redbreast such an unqualified success. . . . No doubt about it: Nesbo belongs on every crime-fiction fan's A-list."
— Booklist (starred review)

"The dense plot is supremely detailed. . . . A crisp, clean translation. . . . Satisfying."
— New York Times Book Review

"Nesbø has a knack for Euro noir."
— Entertainment Weekly

"Nesbo offers up another top-notch mystery thriller, thickly layered, perfectly plotted, and briskly paced to keep readers hooked. With ties to events in The Redbreast, this is an excellent sequel. . . . Recommended for all fiction collections and essential for Scandinavian crime lovers."
— Library Journal

"High tension, lightning pace, a flawed but ultimately sympathetic protagonist: NEMESIS has it all."
— BookPage

"It's a good bet that if this is the first Harry Hole novel you read, you'll never miss another. . . . It's complex but so well written. . . . If you're a fan of crime fiction, Harry Hole's your man."
— Arizona Republic

"No matter what language you read, get on the Jo Nesbo crime patrol and see why the world loves Harry Hole."
— Madison County Herald