War of the Wolf: A Novel (Saxon Tales #11) (Paperback)
Holiday Hours and New Hours in 2022
Thank you for your support this year!
Beginning Jan. 3 Prince Books will open one hour later at 10 am Mon-Sat. and 11 am Sunday.
January 10, 2022: WE ARE HIRING. PLEASE SEE JOB DESCRIPTION BELOW AND CLICK pdf AT THE BOTTOM FOR EMPLOYMENT APPLICATION
Application must be filled out by hand and returned to the bookstore in person.
EMPLOYMENT APPLICATION BELOW:
High school degree mandatory; at least some college preferred.
This job is people oriented but also extremely detail oriented! We process a lot of special and online orders and have thousands of inventory records. Strict adherence to our process is important to keep the store operating smoothly.
Responsibilities include, but are not limited to:
Ensuring that all customers, whether in store, over the phone or online have a positive shopping experience
Operating our cash registers efficiently and accurately
Creating and maintaining displays; shelving books and maintaining good section organization
Receiving and returning shipments; maintaining an accurate physical inventory
Processing online orders for store pickup, curbside pickup, and shipping
Standing/walking is constantly required
Lifting of books and boxes is constantly required
Basic store maintenance including taking out trash and boxes, washing door windows, and dusting
Must be comfortable learning and working with a variety of software, including point of sale/inventory control system, ecommerce and shipping programs
Must be able to work in a team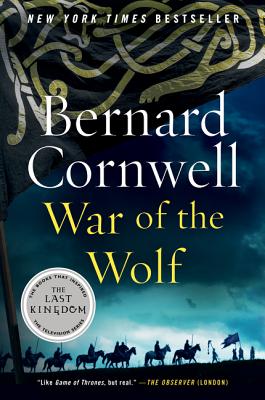 Other Books in Series
This is book number 11 in the Saxon Tales series.
Description
---
Bernard Cornwell's epic story of the making of England continues in this eleventh installment in the bestselling Saxon Tales series—"like Game of Thrones, but real" (The Observer)—the basis of the hit Netflix television series The Last Kingdom.
His blood is Saxon
His heart is Viking
His battleground is England
"Perhaps the greatest writer of historical adventure novels today" (Washington Post), Bernard Cornwell has dazzled and entertained readers and critics with his page-turning bestsellers. Of all his protagonists, however, none is as beloved as Uhtred of Bebbanburg.
And while Uhtred might have regained his family's fortress, it seems that a peaceful life is not to be – as he is under threat from both an old enemy and a new foe. The old enemy comes from Wessex where a dynastic struggle will determine who will be the next king.  And the new foe is Sköll, a Norseman, whose ambition is to be King of Northumbria and who leads a frightening army of wolf-warriors, men who fight half-crazed in the belief that they are indeed wolves. Uhtred, believing he is cursed, must fend off one enemy while he tries to destroy the other. In this new chapter of the Saxon Tales series—a rousing adventure of courage, treachery, duty, devotion, majesty, love and battle, as seen through the eyes of a warrior straddling two worlds—Uhtred returns to fight once again for the destiny of England.
About the Author
---
BERNARD CORNWELL is the author of over fifty novels, including the acclaimed New York Times bestselling Saxon Tales, which serve as the basis for the hit Netflix series The Last Kingdom. He lives with his wife on Cape Cod and in Charleston, South Carolina.
Praise For…
---
"Once again, Cornwell has placed his irascible and cunning hero in the midst of personal and political conflict and provided another exciting story.   VERDICT For those who enjoy their historical fiction told with verve and imagination."
— Library Journal

"A series that never seems to run out of blood, gore, and glory."
— Booklist

"The most prolific and successful historical novelist in the world today.... Mr. Cornwell writes as if he has been to ninth-century Wessex and back.... Much has changed since the ninth century, but some things, and some feelings, are timeless."
— Wall Street Journal

"A rousing, bloodthirsty tale of tumult in early-days Britain.... Great entertainment for fans of historical epics."
— Kirkus

A page-turning thriller of ancient historical times.... Like the Netflix series "The Last Kingdom," which is based on this series, the books are definitely binge-worthy.
— The Oklahoman

"Uhtred is back where he belongs, in the shield-wall, and telling the story of fame and heartbreak, blood and tears, sword against sword. Whether you believe it all or not is up to you; the good news is that Cornwell, once again, makes it easy to do so."
— Curtis Edmonds, Bookreporter

"Our hero is Uhtred, a good-hearted lout with a pleasantly sour disposition; he's like a 9th century Han Solo."
— Time