Southern Women: More Than 100 Stories of Innovators, Artists, and Icons (Garden & Gun Books #5) (Hardcover)
COVID-19 Update
As we do every year, we will be CLOSED on Easter Sunday.
March 30: In his March 30 press briefing, Governor Northam continues to say that businesses like Prince Books may remain open to customers as long as we practice social distancing. We are currently processing many online, email and phone orders, and we continue to receive boxes from our wholesaler and publishers. You are welcome to request curbside delivery, or you may come into the store. We spray the counter and the doors throughout the day. Please continue to order from us! Thank you for your business.
For now, Prince Books intends to remain open. If you would like a book and don't want to come into the store, please call us with your book request and credit card number, (or place order at prince-books.com), tell us that you would like us to bring your purchase out to your car. Park on Martin's Lane next to the back door, and call us so we can run your purchase out to you.
In the meantime we'll be closing daily at 5 p.m. Thank you for your business!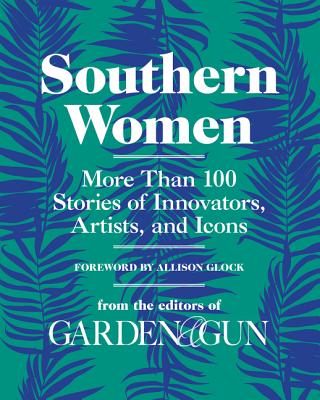 Other Books in Series
This is book number 5 in the Garden & Gun Books series.
Description
---
From the award-winning Southern lifestyle magazine Garden & Gun comes this rich collection of some of the South's most notable women.

For too long, the Southern woman has been synonymous with the Southern belle, a "moonlight and magnolias" myth that gets nowhere close to describing the strong, richly diverse women who have thrived because of—and in some cases, despite of—the South. No more. Garden & Gun's Southern Women: More than 100 Stories of Trail Blazers, Visionaries, and Icons obliterates that stereotype by sharing the stories of more than 100 of the region's brilliant women, groundbreakers who have by turns embraced the South's proud traditions and overcome its equally pervasive barriers and challenges.
Through interviews, essays, photos, and illustrations these remarkable chefs, musicians, actors, writers, artists, entrepreneurs, designers, and public servants will offer a dynamic portrait of who the Southern woman is now. The voices of bona fide icons such as Sissy Spacek, Leah Chase, and Loretta Lynn join those whose stories for too long have been overlooked or underestimated, from the pioneering Texas rancher Minnie Lou Bradley to the Gee's Bend, Alabama, quilter Mary Margaret Pettway—all visionaries who have left their indelible mark not just on Southern culture, but on America itself.
By reading these stories of triumph, grit, and grace, the ties that bind the sisterhood of Southern women emerge: an unflinching resilience and resourcefulness, an inherent love of the land, a singular style and wit. And while the wisdom shared may be rooted in the Southern experience, the universal themes are sure to resonate beyond the Mason-Dixon.
About the Author
---
Garden & Gun is a national magazine that covers the best of the South, including its sporting culture, food, music, art, and literature, and its people and their ideas. The magazine has won numerous awards for journalism, design, and overall excellence, and its two previous books, The Southerner's Handbook and Good Dog, were New York Times bestsellers.