The Call of the Wild and Free: Reclaiming the Wonder in Your Child's Education, A New Way to Homeschool (Hardcover)
Holiday Hours and New Hours in 2022
Thank you for your support this year!
Beginning Jan. 3 Prince Books will open one hour later at 10 am Mon-Sat. and 11 am Sunday.
January 10, 2022: WE ARE HIRING. PLEASE SEE JOB DESCRIPTION BELOW AND CLICK pdf AT THE BOTTOM FOR EMPLOYMENT APPLICATION
Application must be filled out by hand and returned to the bookstore in person.
EMPLOYMENT APPLICATION BELOW:
High school degree mandatory; at least some college preferred.
This job is people oriented but also extremely detail oriented! We process a lot of special and online orders and have thousands of inventory records. Strict adherence to our process is important to keep the store operating smoothly.
Responsibilities include, but are not limited to:
Ensuring that all customers, whether in store, over the phone or online have a positive shopping experience
Operating our cash registers efficiently and accurately
Creating and maintaining displays; shelving books and maintaining good section organization
Receiving and returning shipments; maintaining an accurate physical inventory
Processing online orders for store pickup, curbside pickup, and shipping
Standing/walking is constantly required
Lifting of books and boxes is constantly required
Basic store maintenance including taking out trash and boxes, washing door windows, and dusting
Must be comfortable learning and working with a variety of software, including point of sale/inventory control system, ecommerce and shipping programs
Must be able to work in a team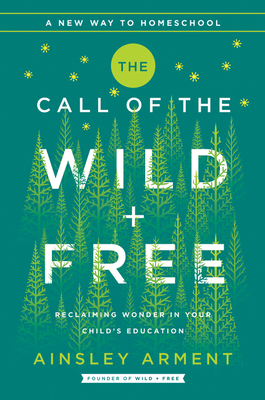 Description
---
Allow your children to experience the adventure, freedom, and wonder of childhood with this practical guide that provides all the information, inspiration, and advice you need for creating a modern, quality homeschool education.

Inspired by the spirit of Henry David Thoreau—"All good things are wild and free"—mother of five Ainsley Arment founded Wild + Free. This growing online community of mothers and families want their children to receive a quality education at home by challenging their intellectual abilities and nurturing their sense of curiosity, joy and awe—the essence of a positive childhood.
The homeschool approach of past generations is gone—including the stigma of socially awkward kids, conservative clothes, and a classroom setting replicated in the home. The Wild + Free movement is focused on a love of nature, reading great books, pursuing interests and hobbies, making the entire world a classroom, and prolonging the wonder of childhood, an appealing philosophy that is unpacked in the pages of this book
The Call of the Wild and Free offers advice, information, and positive encouragement for parents considering homeschooling, those currently in the trenches looking for inspiration, as well as parents, educators, and caregivers who want supplementary resources to enhance their kids' traditional educations.
About the Author
---
Ainsley Arment is the founder and leader of Wild + Free and co-host of the weekly Wild + Free Podcast. As she leads this movement of raising her kids and homeschooling in a new way, she thinks deeply about making the most out of life and ensuring that her children have a fertile seedbed for their own uniqueness and creativity. She and her husband Ben are raising their five kids, Wyatt, Dylan, Cody, Annie, and Millie, in Virginia Beach.
Praise For…
---
"Ainsley Arment has emerged as one of the most prominent voices in a grass-roots community that, long before social distancing, decided to reject mainstream schooling and rather educate within the family…. The Call of the Wild and Free, part memoir and part manifesto, encourages mothers who are considering home-schooling and those who are ready to give up… suggesting that parents are the most intuitive educators of their kids."
— The New York Times

"If you're curious about homeschooling or wondering if it's something you might be able to do, this is a low-pressure, easy read that's also super inspiring." 
— Book Riot