Black Empire (Paperback)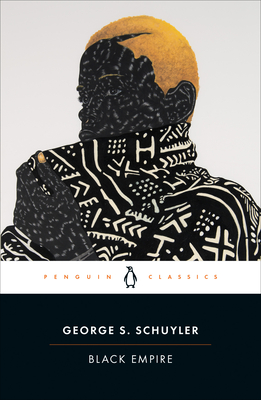 Description
---
A pioneering work of Afrofuturism and antiracist fiction by the author of Black No More, about a Black scientist who masterminds a worldwide conspiracy to take back the African continent from imperial powers

A Penguin Classic

"An amazing serial story of Black genius against the world" is how Black Empire was promoted upon its original publication as a serial in The Pittsburgh Courier from 1936 to 1938. It tells the electrifying tale of Dr. Henry Belsidus, a Black scientific genius desperate to free his people from the crushing tyranny of racism. To do so, he concocts a plot to enlist a crew of Black intellectuals to help him take over the world, cultivating a global network to reclaim Africa from imperial powers and punish Europe and America for white supremacy and their crimes against the planet's Black population.

At once a daring, high-stakes science fiction adventure and a strikingly innovative Afrofuturist classic, this controversial and fearlessly political work lays bare the ethical quandaries of exactly how far one should go in the name of justice.

For more than seventy-five years, Penguin has been the leading publisher of classic literature in the English-speaking world. With more than 2,000 titles, Penguin Classics represents a global bookshelf of the best works throughout history and across genres and disciplines. Readers trust the series to provide authoritative texts enhanced by introductions and notes by distinguished scholars and contemporary authors, as well as up-to-date translations by award-winning translators.
About the Author
---
George S. Schuyler (1895–1977) was a satirist, critic, and eminent African American journalist of the Harlem Renaissance. He became the first Black journalist to attain national prominence and was known for his controversial opinions. In addition to Black Empire, he published the novels Black No More and Slaves Today, as well as several novellas and an autobiography.

Brooks E. Hefner (editor/introducer) is a professor of English at James Madison University. He is the author of Black Pulp: Genre Fiction in the Shadow of Jim Crow and The Word on the Streets: The American Language of Vernacular Modernism, as well as the codirector of the National Endowment for the Humanities–funded digital humanities project Circulating American Magazines.
Praise For…
---
"An incredible science fiction novel . . . It's just a fantastic book, filled with romance and war and politics. I loved this book, and I couldn't have been more surprised by it." ―Bill Goldstein, NBC's Weekend Today in New York

"Imagine W. E. B. Du Bois, Booker T. Washington, George Washington Carver and Marcus Garvey rolled into one fascist superman, and there you have Dr. Henry Belsidus. . . . [Black Empire is] an Afrocentrist's dream." —Henry Louis Gates, Jr., The New York Times Book Review

"Indispensable reading for anyone interested in early Afrofuturism . . . Searing in its indictment of entrenched racism . . . Rip-roaring yarns with sharp satirical points." ―Publishers Weekly

"Fascinating . . . A proto-Afrofuturist potboiler poised between Black Panther and the works of Percival Everett . . . Lurid, pulpy fun." ―Library Journal

"A fascinating piece of work . . . Fast-paced, action packed . . . A solid read―there's good adventure here, and Schuyler tells his story quite well―and it's also of literary-historical interest. The Penguin Classics edition is also an excellent one, from editor Brooks E. Hefner's useful Introduction to the interesting appendices." ―The Complete Review