The Life Of The Mind (Paperback)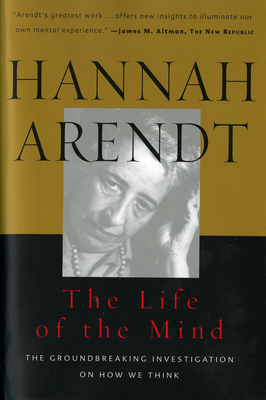 $21.99

Usually Ships in 2-8 Days
Description
---
The most intriguing…and thought-provoking book that Hannah Arendt wrote (The New York Times Book Review), The Life of the Mind is the final work by the political theorist, philosopher, and feminist thinker.This fascinating book investigates thought itself as it exists in contemplative life. In a shift from Arendt's previous writings, most of which focus on the world outside the mind, this is an exploration of the mind's activities she considered to be the most fundamental. The result is a rich, challenging analysis of human mental activity in terms of thinking, willing, and judging.
About the Author
---
Hannah Arendt (1906–1975) is considered one of the most important and influential thinkers of the twentieth century. A political theorist and philosopher, she is also the author of Crises of the Republic, On Violence, The Life of the Mind, and Men in Dark Times. The Origins of Totalitarianism was first published in 1951.
MARY MCCARTHY (1912–1989) was an award-winning short-story writer, bestselling novelist, essayist, and critic. She was the author of
The Stones of Florence
and
Birds of America,
among other books.