Cigarettes, Inc.: An Intimate History of Corporate Imperialism (Paperback)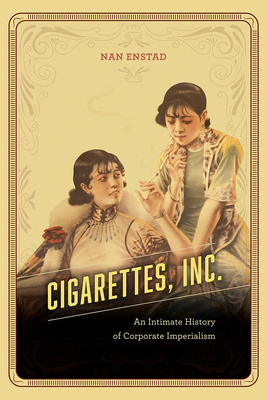 Email or call for price
Usually Ships in 1-5 Days
Description
---
Traditional narratives of capitalist change often rely on the myth of the willful entrepreneur from the global North who transforms the economy and delivers modernity—for good or ill—to the rest of the world. With Cigarettes, Inc., Nan Enstad upends this story, revealing the myriad cross-cultural encounters that produced corporate life before World War II.

In this startling account of innovation and expansion, Enstad uncovers a corporate network rooted in Jim Crow segregation that stretched between the United States and China and beyond. Cigarettes, Inc. teems with a global cast—from Egyptian, American, and Chinese entrepreneurs to a multiracial set of farmers, merchants, factory workers, marketers, and even baseball players, jazz musicians, and sex workers. Through their stories, Cigarettes, Inc. accounts for the cigarette's spectacular rise in popularity and in the process offers nothing less than a sweeping reinterpretation of corporate power itself.
About the Author
---
Nan Enstad is professor of history at University of Wisconsin–Madison.
Praise For…
---
"Essential. . . In Cigarettes, Inc., Enstad brings the tools of a master cultural historian to the relatively staid genre of corporate history. . . . Global in scope, ambitious in conception, and meticulous in execution, Enstad's book is a provocative must-read for historians of capitalism and imperialism alike.?"
— Choice
"Both of Nan Enstad's goals are worthy: to correct the record by giving credit where it's equally or more substantially due, and to play down the importance of the individual actor in favour of a model of distributed agency. The former approach, even as a corrective, often falls into a narrow, somewhat old-fashioned conception of what it means to act in the corporate realm – perhaps such narrative demands are irresistible. With the cult of the founder-entrepreneur as strong as ever, the latter project is more urgently needed."
— Times Literary Supplement
"Fluent. Ambitious. Transformative. Cigarettes, Inc. offers a revelatory look at the modern corporation and the many worlds it made and remade. From the tobacco fields and boardrooms of the Jim Crow South to the factories, farms, and merchant shops of Shanghai, Enstad reconstructs how American big business built a vast overseas empire held in place by millions of smokers, thousands of workers, dozens of capitalists, and one, mischievous little product—the mass-produced, bright leaf tobacco cigarette. Rolling the history of consumer culture, work, innovation and bald political power into a single, powerful account, what she's done here is almost as impressive as how she's done it.  Brilliant.?"
— N.D.B. Connolly, author of A World More Concrete
"With this remarkable book, Enstad redefines the cutting edge of the new history of capitalism. Transnational sweep and local texture cohabit in Cigarettes, Inc., as do searching examinations of corporate power and shrewd discussions of culture and style."
— David Roediger, author of How Race Survived US History
"Alongside the nation-state, the multinational corporation is one of the most powerful agents in modern history, yet our understanding of it is too often limited by heroic narratives of individual innovation or stunted accounts of businessmen and bureaucrats. With clarity and verve, Enstad grounds the corporate transformation of property, power, and production in the lives of the people who created, advertised, distributed, and consumed one of the twentieth century's most destructive products. This engrossing and thickly peopled account of the cigarette's rise in China and the United States is essential reading for all of us who live in the world remade by the corporate form—from the commanding heights of law and trade to the intimate intricacies of social relationship and human bodies."
— Bethany Moreton, Dartmouth College
Besides contributing to U.S. and world historiography, Enstad aspires to write a new business history, one in which labor and corporate histories are not distinct but mutually constitutive. [...] The author should be commended for accomplishing her expansive methodological agenda so grandly.
— Sayuri Guthrie Shimizu
"Enstad has crafted a brilliant book, one that tracks from the local to the international, the intimate to the global...a must-read for scholars of diplomacy and imperialism and just about anyone interested in how do international history and global studies."
— Diplomatic History