My Curious and Jocular Heroes: Tales and Tale-Spinners from Appalachia (Hardcover)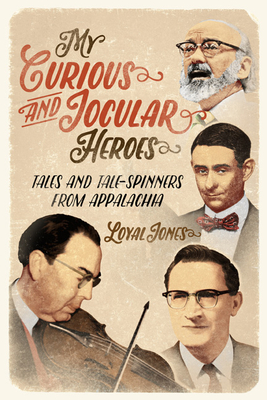 About the Author
---
Loyal Jones is the author of numerous books on Appalachian culture, including Country Music Humorists and Comedians . He served as director of the Appalachian Center at Berea College for twenty-three years.
Praise For…
---
"The reader will come away entranced, enchanted and captivated in addition to becoming well-versed in the lives and contributions of the pioneers in Appalachian folklore."--Appalachian Mountain Books
 
"The strength of Jones's book is his familiarity with each of his subjects, three of whom he knew personally, and two of whom--Williams and Roberts--he knew well. Jones's intimate knowledge of each man and his work makes his scholarly essays about them read more like memoir than scholarship, though the essays are indeed scholarly." --
West Virginia History
"The colorful tales, anecdotes, word lore, customs, riddles, and songs that Loyal Jones has chosen bring us into the humor, accents, and often ribald color that marks our first frontier and its inhabitants." "Stephen Wade, author of The Beautiful Music All Around Us: Field Recordings and the American Experience

"My Curious and Jocular Heroes . . . effectively describes the ways that oral traditions contribute to a sense of place, and it is a fitting tribute to its subjects, who made the compilation of those traditions their life's work." --Journal of Appalachian Studies
 
"The strength of the volume rests in Jones's personal knowledge and analyses of the four men. Beyond that the book is replete with scores of tales, jokes, songs, and close readings of obscure words and their derivation. It is a gold mine for those who appreciate the region's culture." --
North Carolina Historical Review
"
Anyone who appreciates entertaining stories, plaintive ballads, and ribald humor will enjoy this collection of biographies of four of the pre-eminent folklorists of Appalachia. . . .The charm of the book lies in the ballads, tales, humorous stories and songs accompanying each of the short profiles." --
Southeastern Librarian