The Music of the Stanley Brothers (Music in American Life) (Paperback)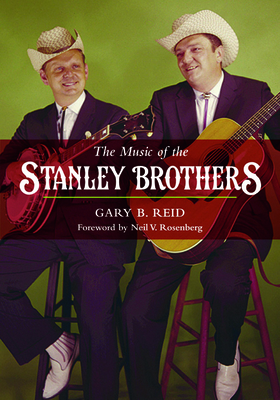 Description
---
The Music of the Stanley Brothers brings together forty years of passionate research by scholar and record label owner Gary Reid. A leading authority on Carter and Ralph Stanley, Reid augments his own vast knowledge of their music with interviews, documents ranging from books to folios sold by the brothers at shows, and the words of Ralph Stanley, former band members, guest musicians, session producers, songwriters, and bluegrass experts. The result is a reference that illuminates the Stanleys' art and history. It is all here: dates and locations; the roster of players on well-known and obscure sessions alike; master/matrix and catalog/release numbers, with reissue information; a full discography sorting out the Stanleys' complex recording history; the stories behind the music; and exquisitely informed biographical notes that place events in the context of the brothers' careers and lives.
 
Monumental and indispensable, The Music of the Stanley Brothers provides fans and scholars alike with a guide for immersion in the long career and breathtaking repertoire of two legendary American musicians.
About the Author
---

Gary Reid is the founder and head of Copper Creek Records, a label specializing in bluegrass and old-time music, and is a three-time winner of the International Bluegrass Music Award for best liner notes.
Praise For…
---
"Authoritative. With its publication, Music of the Stanley Brothers becomes one of the most important sources about one of history's most important bluegrass groups."--Journal of Folklore Research
 
"Reid has amassed, and shared, a massive number of facts which is testimony to the depth of his research and knowledge…It appears as if nothing escapes Reid's attention."--Bluegrass Today
 
"An important link in bluegrass history. The amount of information is staggering, and this will be the encyclopedia of the Stanley Brothers, the best source of information about their musical legacy."--Country Standard Time
 
"Say hello to the Boyhood of bluegrass music journalism, a book that has taken Gary Reid some 40 years to piece together. . . . As an all-encompassing guide to their music, this is indispensable."--Mojo
"An excellent reference for anyone interested in the Stanley Brothers years."--The Lonesome Road Review

"Gary Reid's Music of the Stanley Brothers brings together a lot of information about one of the most important first-generation bluegrass groups. The level of detail and completeness of the discography make the listings authoritative… With its publication, Music of the Stanley Brothers becomes one of the most important sources about one of history's most important bluegrass groups."--Journal of Folklore Research