Maximalist: America in the World from Truman to Obama (Hardcover)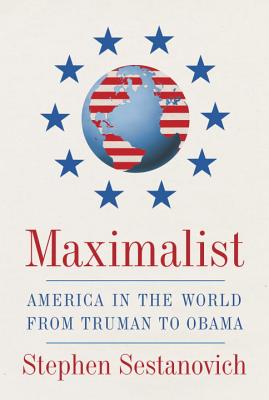 Description
---
From a writer with long and high-level experience in the U.S. government, a startling and provocative assessment of America's global dominance. "Maximalist" puts the history of our foreign policy in an unexpected new light, while drawing fresh, compelling lessons for the present and future.
When the United States has succeeded in the world, Stephen Sestanovich argues, it has done so not by staying the course but by having to change it usually amid deep controversy and uncertainty. For decades, the United States has been a power like no other. Yet presidents and policy makers worry that they and, even more, their predecessors haven t gotten things right. Other nations, they say to themselves, contribute little to meeting common challenges. International institutions work badly. An effective foreign policy costs too much. Public support is shaky. Even the greatest successes often didn t feel that way at the time.
Sestanovich explores the dramatic results of American global primacy built on these anxious foundations, recounting cycles of overcommitment and underperformance, highs of achievement and confidence followed by lows of doubt. We may think there was a time when America's international role reflected bipartisan unity, policy continuity, and a unique ability to work with others, but "Maximalist" tells a different story one of divided administrations and divisive decision making, of clashes with friends and allies, of regular attempts to set a new direction. Doing too much has always been followed by doing too little, and vice versa.
"Maximalist" unearths the backroom stories and personalities that bring American foreign policy to life. Who knew how hard Lyndon Johnson fought to stay out of the war in Vietnam or how often Henry Kissinger ridiculed the idea of visiting China? Who remembers that George Bush Sr. found Ronald Reagan's diplomacy too passive or that Bush Jr. considered Bill Clinton's too active? Leaders and scoundrels alike emerge from this retelling in sharper focus than ever before. Sestanovich finds lessons in the past that anticipate and clarify our chaotic present.
About the Author
---
Stephen Sestanovich served as U.S. ambassador-at-large to the former Soviet Union during the Clinton administration, as a senior staff member at the National Security Council and the State Department during the Reagan administration, and as senior legislative assistant to Senator Daniel Patrick Moynihan. He is currently the Kathryn and Shelby Cullom Davis Professor of International Diplomacy at Columbia University s School of International and Public Affairs, and the George F. Kennan Senior Fellow for Russian and Eurasian Studies at the Council on Foreign Relations."
Praise For…
---
"In his engaging and richly anecdotal new book, Maximalist, Stephen Sestanovich applies that understanding as a framework for reexamining post-World War II U.S. history to find the persistent truths and lessons that he believes can inform our understanding of the present. . . A scholar of the Soviet Union and a former U.S. diplomat who now teaches at Columbia University, Sestanovich shows that the ambitions of policymakers and the cycles of public opinion that drive them are inevitable and recurrent. He is at his best in describing the Johnson and Nixon administrations, capturing the infighting among those presidents and their senior advisers as they grappled with America's role in the world."
—Marcus Brauchli, The Washington Post

"A leading voice. . . Offers a provocative reasssement of America's global dominance . . . Sestanovich finds fresh lessons in the past that clarify our chaotic present."
—The Record

"Incisive and provocative. Written by one of our country's foremost scholars, Maximalist is rich with anecdotes and enlivened by little-known details about well-known events. Sestanovich has made a masterful contribution to the history of modern American diplomacy."
—Madeleine Albright
 
"This is one of the most important books ever written about U.S. foreign policy. It will immediately join George F. Kennan's classic American Diplomacy as essential reading for all students of America's behavior in the world. In fact, it should replace it. Sestanovich is a brilliant and insightful writer. His book couldn't be more timely."
—Robert Kagan, author of The World America Made
 
"Maximalist is a nicely provocative and highly readable account of how presidents have used American power since World War II. It combines carefully researched history with advice that is very relevant to the situation of the United States today."
—Joseph S. Nye, Jr., author of Soft Power and Presidential Leadership and the Creation of the American Era 

"Americans routinely need to be reminded that our past was not as smooth and rosy as we like to remember it; Stephen Sestanovich provides a masterful and entertaining corrective.  Maximalist is beautifully written, with engaging anecdotes woven throughout. Most important, it  will change your view of Obama's foreign policy."
—Anne-Marie Slaughter, President and CEO, New America Foundation; Bert G. Kerstetter '66 University Professor Emerita of Politics and International Affairs, Princeton University