Joy at Work: Organizing Your Professional Life (Hardcover)
COVID-19 Update
March 30: In his March 30 press briefing, Governor Northam continues to say that businesses like Prince Books may remain open to customers as long as we practice social distancing. We are currently processing many online, email and phone orders, and we continue to receive boxes from our wholesaler and publishers. You are welcome to request curbside delivery, or you may come into the store. We spray the counter and the doors throughout the day. Please continue to order from us! Thank you for your business.
For now, Prince Books intends to remain open. If you would like a book and don't want to come into the store, please call us with your book request and credit card number, (or place order at prince-books.com), tell us that you would like us to bring your purchase out to your car. Park on Martin's Lane next to the back door, and call us so we can run your purchase out to you.
In the meantime we'll be closing daily at 5 p.m. Thank you for your business!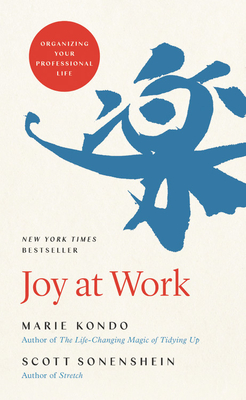 $24.00
Coming Soon - Available for Pre-Order Now
Description
---
Declutter your desk and brighten up your business with this transformative guide from an organizational psychologist and the #1 New York Times bestselling author of The Life-Changing Magic of Tidying Up.
The workplace is a magnet for clutter and mess. Who hasn't felt drained by wasteful meetings, disorganized papers, endless emails, and unnecessary tasks? These are the modern-day hazards of working, and they can slowly drain the joy from work, limit our chances of career progress, and undermine our well-being.
There is another way. In Joy at Work, bestselling author and Netflix star Marie Kondo and Rice University business professor Scott Sonenshein offer stories, studies, and strategies to help you eliminate clutter and make space for work that really matters.
Using the world-renowned KonMari Method and cutting-edge research, Joy at Work will help you overcome the challenges of workplace mess and enjoy the productivity, success, and happiness that come with a tidy desk and mind.
About the Author
---
Marie Kondo is a tidying expert, bestselling author, Emmy-nominated star of Netflix's hit show, Tidying Up With Marie Kondo, and founder of KonMari Media, Inc.
Scott Sonenshein is a chaired professor at Rice University and the bestselling author of Stretch. He received his PhD in organizational behavior from the University of Michigan and has written for the New York Times, Time magazine, Fast Company, and Harvard Business Review.
Praise For…
---
"Marie Kondo and Scott Sonenshein are modern-day superheroes -- the dynamic duo of office efficiency and satisfaction. Their timely book delivers the tools, questions, and mindsets you need to rid the clutter that's piling on your desk, clogging your calendar, and infiltrating your personal networks. If you want joy in life, the place to begin is Joy at Work."—Daniel H. Pink, New York Times bestselling author of When, To Sell Is Human, and Drive

"Marie Kondo and Scott Sonenshein understand something very important about life and work: many times the key to success comes from subtracting, not adding. For anyone looking to bring more joy and focus to their office and career, Joy at Work is the book you've been waiting for."—Alex Banayan, author of the #1 international bestseller The Third Door

"Finding joy at work isn't magic -- it takes work. But it might feel a bit more like play thanks to the practical insights from Marie Kondo and Scott Sonenshein."—Adam Grant, New York Times bestselling author of Originals and Give and Take, and host of the TED podcast WorkLife


"A tidy guide to finding joy at work. Full of psychological wisdom and practical tips -- I loved it!"—Angela Duckworth, New York Times bestselling author of Grit

"Joy at Work is a charming antidote to the messiness of organizational life. It will help you be happier, waste less time, and lead others -- and is mighty fun to read."
—Bob Sutton, Stanford Professor, organizational psychologist, and author of bestsellers The No Asshole Rule and Good Boss, Bad Boss