Little Dreamers: Visionary Women Around the World (Vashti Harrison) (Hardcover)
COVID-19 Update
March 30: In his March 30 press briefing, Governor Northam continues to say that businesses like Prince Books may remain open to customers as long as we practice social distancing. We are currently processing many online, email and phone orders, and we continue to receive boxes from our wholesaler and publishers. You are welcome to request curbside delivery, or you may come into the store. We spray the counter and the doors throughout the day. Please continue to order from us! Thank you for your business.
For now, Prince Books intends to remain open. If you would like a book and don't want to come into the store, please call us with your book request and credit card number, (or place order at prince-books.com), tell us that you would like us to bring your purchase out to your car. Park on Martin's Lane next to the back door, and call us so we can run your purchase out to you.
In the meantime we'll be closing daily at 5 p.m. Thank you for your business!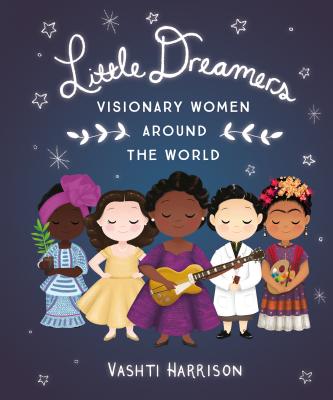 Description
---
The instant New York Times bestseller!




From the author of Little Leaders: Bold Women in Black History comes the highly anticipated follow-up, a beautifully illustrated collectible detailing the lives of women creators around the world.

Featuring the true stories of 35 women creators, ranging from writers to inventors, artists to scientists,

Little Dreamers: Visionary Women Around the World

inspires as it educates. Readers will meet trailblazing women like Mary Blair, an American modernist painter who had a major influence on how color was used in early animated films, actor/inventor Hedy Lamarr, environmental activist Wangari Maathai, architect Zaha Hadid, filmmaker Maya Deren, and physicist Chien-Shiung Wu. Some names are known, some are not, but all of the women had a lasting effect on the fields they worked in.

The charming, information-filled full-color spreads show the Dreamers as both accessible and aspirational so readers know they, too, can grow up to do something amazing.
About the Author
---
Vashti Harrison, #1 New York Times bestselling author and illustrator of Little Leaders: Bold Women In Black History, is an artist, author and filmmaker with a passion for storytelling. She earned her MFA in film/video from California Institute of the Arts, where she snuck into animation and illustration classes to learn from Disney and DreamWorks legends. There she rekindled a love for drawing and painting. Now she uses her love of both film and illustration to craft beautiful stories for children.