Midnight Riot (Rivers of London #1) (Mass Market)
COVID-19 Update
As we do every year, we will be CLOSED on Easter Sunday.
March 30: In his March 30 press briefing, Governor Northam continues to say that businesses like Prince Books may remain open to customers as long as we practice social distancing. We are currently processing many online, email and phone orders, and we continue to receive boxes from our wholesaler and publishers. You are welcome to request curbside delivery, or you may come into the store. We spray the counter and the doors throughout the day. Please continue to order from us! Thank you for your business.
For now, Prince Books intends to remain open. If you would like a book and don't want to come into the store, please call us with your book request and credit card number, (or place order at prince-books.com), tell us that you would like us to bring your purchase out to your car. Park on Martin's Lane next to the back door, and call us so we can run your purchase out to you.
In the meantime we'll be closing daily at 5 p.m. Thank you for your business!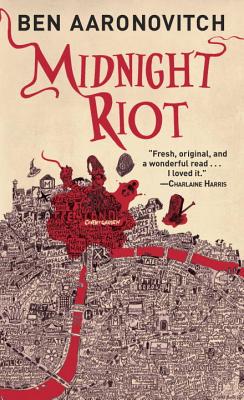 Other Books in Series
This is book number 1 in the Rivers of London series.
Description
---
"Midnight Riot is what would happen if Harry Potter grew up and joined the Fuzz. It is a hilarious, keenly imagined caper."—Diana Gabaldon 

Probationary Constable Peter Grant dreams of being a detective in London's Metropolitan Police. Too bad his superior plans to assign him to the Case Progression Unit, where the biggest threat he'll face is a paper cut. But Peter's prospects change in the aftermath of a puzzling murder, when he gains exclusive information from an eyewitness who happens to be a ghost. Peter's ability to speak with the lingering dead brings him to the attention of Detective Chief Inspector Thomas Nightingale, who investigates crimes involving magic and other manifestations of the uncanny. Now, as a wave of brutal and bizarre murders engulfs the city, Peter is plunged into a world where gods and goddesses mingle with mortals and a long-dead evil is making a comeback on a rising tide of magic.

"Filled with detail and imagination . . . Aaronovitch is a name to watch."—Peter F. Hamilton 

"Fresh, original, and a wonderful read . . . I loved it."—Charlaine Harris
About the Author
---
Ben Aaronovitch was born in London in 1964 and had the kind of dull routine childhood that drives a man to drink or to science fiction. He is a screenwriter, with early notable success on BBC television's legendary Doctor Who, for which he wrote some episodes now widely regarded as classics, and which even he is quite fond of. He has also penned several groundbreaking TV tie-in novels. After a decade of such work, he decided it was time to show the world what he could really do and embarked on his first serious original novel. The result is Midnight Riot, the debut adventure of Peter Grant.
Praise For…
---
"Fresh, original and a wonderful read. I loved it."—Charlaine Harris

"Midnight Riot is what would happen if Harry Potter grew up and joined the Fuzz. It is a hilarious, keenly imagined caper."—Diana Gabaldon

"Filled with detail and imagination . . . Aaronovitch is a name to watch."—Peter F. Hamilton

"The perfect blend of CSI and Harry Potter."—io9

"Aaronovitch has created a fun and funny character in Grant, who displays wit more than snark (a welcome attitude) and shows he can think on his feet. . . . It's a great start to what will hopefully be a long series of adventures."—SFrevu