Welcome to the World, Baby Girl!: A Novel (Large Print / Paperback)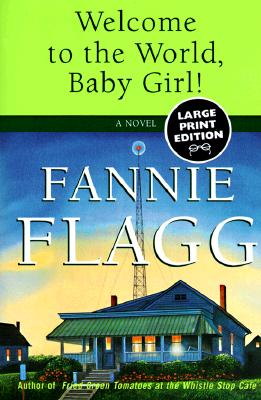 Description
---
Read Fannie Flagg in Large Print

Welcome to the World, Baby Girl! is the funny, serious, and compelling new novel by Fannie Flagg, author of the beloved Fried Green Tomatoes at the Whistle Stop Cafe (and prize-winning co-writer of the classic movie).

Once again, Flagg's humor and respect and affection for her characters shine forth. Many inhabit small-town or suburban America. But this time, her heroine is urban: a brainy, beautiful, and ambitious rising star of 1970s television. Dena Nordstrom, pride of the network, is a woman whose future is full of promise, her present rich with complications, and her past marked by mystery.

Among the colorful cast of characters are:

   Sookie, of Selma, Alabama, Dena's exuberant  college roommate, who is everything that Dena  is not; she is thrilled by Dena's success and will  do everything short of signing autographs for  her; Sookie's a mom, a wife, and a Kappa forever
        
    Dena's cousins, the Warrens, and her aunt Elner,  of Elmwood Springs, Missouri, endearing, loyal,  talkative, ditsy, and, in their way, wise
        
    Neighbor Dorothy, whose spirit hovers over them  all through the radio show that she broadcast  from her home in the 1940s
        
   Sidney Capello, pioneer of modern sleaze journalism and privateer of privacy, and Ira Wallace,  his partner in tabloid television
        
    Several doctors, all of them taken with--and  almost taken in by-Dena

There are others, captivated by a woman who tries to go home again, not knowing where home or love lie.
About the Author
---
Fannie Flagg began writing and producing television specials at age nineteen and went on to distinguish herself as an actress and writer in television, films, and the theater. Her first novel, Daisy Fay and the Miracle Man, spent ten weeks on The New York Times paperback bestseller list, and her second novel, Fried Green Tomatoes at the Whistle Stop Cafe , spent thirty-six weeks on the same list. It was produced by Universal Pictures as the feature film  Fried Green Tomatoes. Flagg's script was nominated for both the Academy and Writers Guild of America awards, and won the highly regarded Scripters Award. Flagg narrated both novels on audiotape and received a Grammy Award nomination for best spoken word. Flagg lives in Montecito, California.

Fried Green Tomatoes at the Whistle Stop Cafe and Daisy Fay and the Miracle Man are both available from Random House Large Print Editions.
Praise For…
---
"Utterly irresistible."
--Time

"ENJOYABLE . . . [FLAGG] KEEPS IT SIMPLE, SHE KEEPS IT BRIGHT, SHE KEEPS IT MOVING RIGHT ALONG--AND, MOST OF ALL, SHE KEEPS IT BELOVED."
--The New York Times Book Review

"SATISFYING . . . [FLAGG'S] FAITH IN THE HEALING POWER OF SMALL TOWNS AND FAMILY ARE REFRESHING."
--People