Super Pumped: The Battle for Uber (Paperback)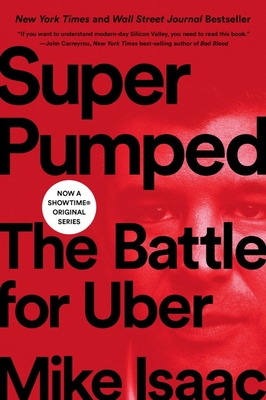 $18.95

Usually Ships in 2-8 Days
Description
---
Now a SHOWTIME® original series starring Emmy winners Joseph Gordon-Levitt and Kyle Chandler and Academy Award nominee Uma Thurman. Now streaming – Only on SHOWTIME.



Named one of the best books of the year by NPR, Fortune, Bloomberg, Sunday Times

A New York Times Book Review Editor's Choice

"If you want to understand modern-day Silicon Valley, you need to read this book." —John Carreyrou, New York Times best-selling author of Bad Blood
Hailed as the definitive book on Uber and Silicon Valley, Super Pumped is an epic story of ambition and deception, obscene wealth, and bad behavior that explores how blistering technological and financial innovation culminated in one of the most catastrophic twelve-month periods in American corporate history.
Backed by billions in venture capital dollars and led by a brash and ambitious founder, Uber promised to revolutionize the way we move people and goods through the world. What followed would become a corporate cautionary tale about the perils of startup culture and a vivid example of how blind worship of startup founders can go wildly wrong.
About the Author
---
Mike Isaac is a technology reporter at the New York Times, whose Uber coverage won the Gerald Loeb Award for distinguished business reporting. He writes frequently about Uber, Facebook, and other Silicon Valley giants for the Times, and appears often on CNBC and MSNBC. He lives in San Francisco.
Praise For…
---
Aside from being a delicious read, Mike Isaac's account is also teeming with new revelations that will shock and outrage you.
— John Carreyrou, New York Times best-selling author of Bad Blood

This deeply reported book is a fascinating look at one of the most influential companies of the decade.
— Verge

Isaac is great at the ticktock of events as they unfold, but his best work comes when he steps back to examine the bigger picture.
— Leslie Berlin - New York Times Book Review

Many people have an Uber story—this is the Uber story.

— Newsday

If you had to pick the 'startup profile book of the year award,' Super Pumped would almost certainly take the crown.

— TechCrunch

[T]he level of detail Isaac brings to [the story of Uber], the way he weaves the cast of characters together, is impressive. It's the history of Uber, yes,… [b]ut it's more.… It is the story of the dot-com bubble in the late '90s.…It's the story of the convergence of Amazon Web Services, the iPhone and the App Store, and an economic crash that turned the faucet of finance back on again. It's about the ethos of Silicon Valley… and the cult of the founder… of a business model built on quicksand, and that makes it about the damage Travis Kalanick has done in his pursuit of power.
— Dylan Schleicher - Porchlight Books

A detailed, unsparing account of entrepreneurial arrogance, breathtaking excess, and cutthroat competition at one of the tech industry's most vaunted, loathed, and socially transformative companies.
— Anna Wiener, New York Times best-selling author of Uncanny Valley

[Isaac] spins a compelling yarn… [Super Pumped] is no dry business profile but a tale that Isaac has deeply reported yet still made accessible.

— William Northingham - Los Angeles Times

[R]ollickingly entertaining.
— Edward Niedermeyer - Drive

Isaac brings his expertise and energy to Super Pumped, and helps us better understand one of the most important companies on earth.

— Jeremy Hobson - NPR