Women in Art: 50 Fearless Creatives Who Inspired the World (Women in Science) (Hardcover)
COVID-19 Update
As we do every year, we will be CLOSED on Easter Sunday.
March 30: In his March 30 press briefing, Governor Northam continues to say that businesses like Prince Books may remain open to customers as long as we practice social distancing. We are currently processing many online, email and phone orders, and we continue to receive boxes from our wholesaler and publishers. You are welcome to request curbside delivery, or you may come into the store. We spray the counter and the doors throughout the day. Please continue to order from us! Thank you for your business.
For now, Prince Books intends to remain open. If you would like a book and don't want to come into the store, please call us with your book request and credit card number, (or place order at prince-books.com), tell us that you would like us to bring your purchase out to your car. Park on Martin's Lane next to the back door, and call us so we can run your purchase out to you.
In the meantime we'll be closing daily at 5 p.m. Thank you for your business!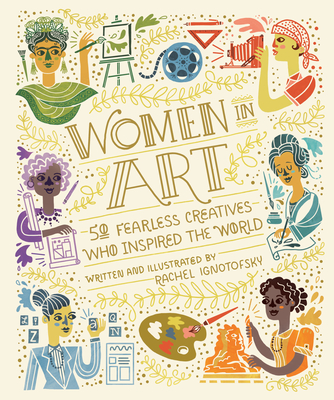 Description
---
Illustrated profiles of 50 pioneering female artists--from the 11th century to today--from the author of the New York Times bestseller Women in Science.

A charmingly illustrated and inspiring book, Women in Art highlights the achievements and stories of 50 notable women in the arts--from well-known figures like painters Frida Kahlo and Georgia O'Keefe, to lesser-known names like 19th-century African American quilter Harriet Powers and Hopi-Tewa ceramic artist Nampeyo. Covering a wide array of artistic mediums, this fascinating collection also contains infographics about artistic movements throughout history, statistics about women's representation in museums, and notable works by women. Women in Art celebrates the success of the bold female creators who inspired the world and paved the way for the next generation of artists.
About the Author
---
RACHEL IGNOTOFSKY is a New York Times bestselling author, illustrator, and designer. She graduated from Tyler School of Art's graphic design program and formerly worked as a senior designer and illustrator at Hallmark Greetings. Rachel and her work have been featured in many print and online media outlets such as the New York Times, the Los Angeles Times, Scientific American, Science Friday, Brain Pickings, and more. She is the author of Women in Science, Women in Sports, I Love Science, and The Wondrous Workings of Planet Earth.