The Mastermind: A True Story of Murder, Empire, and a New Kind of Crime Lord (Paperback)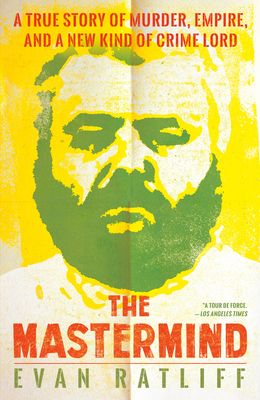 $18.99
Email or call for price.
Description
---
The incredible true story of the decade-long quest to bring down Paul Le Roux—the creator of a frighteningly powerful Internet-enabled cartel who merged the ruthlessness of a drug lord with the technological savvy of a Silicon Valley entrepreneur.

"A tour de force of shoe-leather reporting—undertaken, amid threats and menacing, at considerable personal risk."—Los Angeles Times

NAMED ONE OF THE BEST BOOKS OF THE YEAR BY The New York Times Book Review • NPR • Evening Standard • Kirkus Reviews

It all started as an online prescription drug network, supplying hundreds of millions of dollars' worth of painkillers to American customers. It would not stop there. Before long, the business had turned into a sprawling multinational conglomerate engaged in almost every conceivable aspect of criminal mayhem. Yachts carrying $100 million in cocaine. Safe houses in Hong Kong filled with gold bars. Shipments of methamphetamine from North Korea. Weapons deals with Iran. Mercenary armies in Somalia. Teams of hit men in the Philippines. Encryption programs so advanced that the government could not break them.

The man behind it all, pulling the strings from a laptop in Manila, was Paul Calder Le Roux—a reclusive programmer turned criminal genius who could only exist in the networked world of the twenty-first century, and the kind of self-made crime boss that American law enforcement had never imagined.

For half a decade, DEA agents played a global game of cat-and-mouse with Le Roux as he left terror and chaos in his wake. Each time they came close, he would slip away. It would take relentless investigative work, and a shocking betrayal from within his organization, to catch him. And when he was finally caught, the story turned again, as Le Roux struck a deal to bring down his own organization and the people he had once employed.

Award-winning investigative journalist Evan Ratliff spent four years piecing together this intricate puzzle, chasing Le Roux's empire and his shadowy henchmen around the world, conducting hundreds of interviews and uncovering thousands of documents. The result is a riveting, unprecedented account of a crime boss built by and for the digital age.

Praise for The Mastermind

"The Mastermind is true crime at its most stark and vivid depiction. Evan Ratliff's work is well done from beginning to end, paralleling his investigative work with the work of the many federal agents developing the case against LeRoux."—San Francisco Book Review (five stars)

"A wholly engrossing story that joins the worlds of El Chapo and Edward Snowden; both disturbing and memorable."—Kirkus Reviews (starred review)
About the Author
---
Evan Ratliff is an award-winning journalist and founder of The Atavist Magazine. He is a longtime contributor to Wired, The New Yorker, National Geographic, and other magazines, and a two-time finalist for the National Magazine Awards and the Livingston Awards. His 2009 Wired cover story "Vanish," about his attempt to disappear and the public's effort to find him, was selected by the magazine as one of the twenty best stories in its history. He also co-hosts the acclaimed Longform podcast and was a founding editor of Pop-Up Magazine, the country's most successful live journalism event. He is the co-author of Safe: The Race to Protect Ourselves in a Newly Dangerous World, about innovation and counterterrorism, and the editor of the collection Love and Ruin: Tales of Obsession, Danger, and Heartbreak from The Atavist Magazine.
Praise For…
---
"The Mastermind is a tour de force of shoe-leather reporting—undertaken, amid threats and menacing, at considerable personal risk. Ratliff's reportage unfolds in crisp, atmospheric prose, and he brings a dispassionate eye to a milieu lousy with unreliable narrators, triangulating where possible to separate fact from legend."—Los Angeles Times

"With his relentless and fearless reporting, Evan Ratliff has pried open a hidden world filled with high-tech gangsters and drug kingpins and double-crossers and stone-cold hitmen. The story is as fascinating as it is terrifying, and it is one that will hold you in its grip."—David Grann, author of Killers of the Flower Moon

"A true crime classic."—Publishers Weekly (starred review)

"If truth is stranger than fiction, then The Mastermind is the truest book you'll read this year. The only thing predictable about it is how quickly you'll turn the pages."—Noah Hawley, author of Before the Fall and creator of the TV series Fargo

"As directors, we spend countless hours imagining heightened plots and memorable characters that will leave a lasting impression on audiences. The true tale of obsession, genius, intrigue, and vengeance detailed in The Mastermind is as gripping and cinematic as anything we could endeavor to conjure up."—Joe and Anthony Russo, directors, Captain America and Avengers: Infinity War
 
"This is a mesmerizing, absolutely bonkers story about a man as brilliant as he is villainous. You'll find yourself sucked in, freaked out, and ultimately blown away by Ratliff's storytelling and tireless reporting. The Mastermind is a masterpiece."—Nick Thompson, editor-in-chief, Wired