The Little Book of Feminist Saints (Hardcover)
COVID-19 Update
March 30: In his March 30 press briefing, Governor Northam continues to say that businesses like Prince Books may remain open to customers as long as we practice social distancing. We are currently processing many online, email and phone orders, and we continue to receive boxes from our wholesaler and publishers. You are welcome to request curbside delivery, or you may come into the store. We spray the counter and the doors throughout the day. Please continue to order from us! Thank you for your business.
For now, Prince Books intends to remain open. If you would like a book and don't want to come into the store, please call us with your book request and credit card number, (or place order at prince-books.com), tell us that you would like us to bring your purchase out to your car. Park on Martin's Lane next to the back door, and call us so we can run your purchase out to you.
In the meantime we'll be closing daily at 5 p.m. Thank you for your business!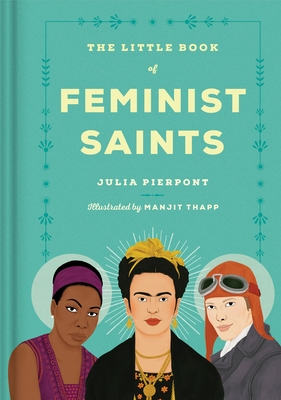 Description
---
This beautifully illustrated collection honoring one hundred exceptional "feminist saints" throughout history is sure to inspire women and men alike.

"A new set of role models and heroes—'matron saints'—for the feminist future."—The New York Times Book Review

"The women in this book . . . blazed trails where none existed before."—The Guardian

In this luminous volume, New York Times bestselling writer Julia Pierpont and artist Manjit Thapp match short, vibrant, and surprising biographies with stunning full-color portraits of secular female "saints": champions of strength and progress. These women broke ground, broke ceilings, and broke molds—including
 
Maya Angelou • Jane Austen • Ruby Bridges • Rachel Carson • Shirley Chisholm • Marie Curie & Irène Joliot Curie • Isadora Duncan • Amelia Earhart • Artemisia Gentileschi • Grace Hopper • Dolores Huerta • Frida Kahlo • Billie Jean King • Audre Lorde • Wilma Mankiller • Toni Morrison • Michelle Obama • Sandra Day O'Connor • Sally Ride • Eleanor Roosevelt • Margaret Sanger • Sappho • Nina Simone • Gloria Steinem • Kanno Sugako • Harriet Tubman • Mae West • Virginia Woolf • Malala Yousafzai
 
Open to any page and find daily inspiration and lasting delight.
 
Praise for The Little Book of Feminist Saints

"A whistle-stop tour of inspiring women . . . [The artwork] deserves to be framed in every woman's living room."—Diva
 
"Short, snappy and inspiring [with] glorious visuals."—Psychologies
 
"This beautifully illustrated collection offers daily inspiration and humorous anecdotes to remind you why we worship these women so."—Hello Giggles

"An enticing collection . . . Pierpont's pithy write-ups are accompanied by Thapp's funky, wonderfully expressive color illustrations, making for an engaging picture-book experience for adults. . . . Bold and sassy . . . required reading for any seeking to broaden their historical knowledge."—Kirkus Reviews (starred review)

"Small enough to tuck into a bag, this delightful book offers instant inspiration."—BookPage
About the Author
---
Julia Pierpont is the author of the New York Times bestseller Among the Ten Thousand Things, winner of the Prix Fitzgerald in France. She is a graduate of Barnard College and the MFA program at New York University. Her writing has appeared in The Guardian, The New Yorker, The New York Times Book Review, and Guernica. She lives and teaches in New York.

Manjit Thapp is an illustrator from the United Kingdom. She graduated with a BA in illustration from Camberwell College of Arts in 2016. Her illustrations combine both traditional and digital media, and her work has been featured by Instagram, Dazed, Vogue India, and Wonderland Magazine.
Praise For…
---
"A new set of role models and heroes—'matron saints'—for the feminist future."—The New York Times Book Review

"The women in this book . . . blazed trails where none existed before."—The Guardian

"A whistle-stop tour of inspiring women . . . [The artwork] deserves to be framed in every woman's living room."—Diva
 
"[A] small book packing a big punch."—The Independent

"Small enough to tuck into a bag, this delightful book offers instant inspiration."—BookPage

"A gloriously diverse, edifying, and curiosity-inspiring collection."—Booklist

"Short, snappy and inspiring [with] glorious visuals."—Psychologies
 
"This beautifully illustrated collection offers daily inspiration and humorous anecdotes to remind you why we worship these women so."—Hello Giggles

"Bold and sassy . . . an engaging picture-book experience for adults [and] required reading for any seeking to broaden their historical knowledge."—Kirkus Reviews (starred review)

 "A thoroughly brilliant and informative read . . . In its pint-sized form, it's a gift to give, and a gateway to discovering brilliant women—the scientists, creators, artists, protestors, inspirations, pioneers, the doers who broke the mold world over."—The Skinny