Pattern Recognition (Blue Ant #1) (Paperback)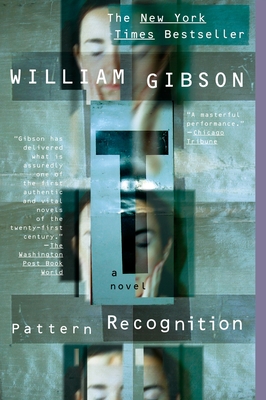 $17.00

Usually Ships in 2-6 Days
Other Books in Series
This is book number 1 in the Blue Ant series.
Description
---
"Pattern Recognition is William Gibson's best book since he rewrote all the rules in Neuromancer."—Neil Gaiman, author of American Gods

"One of the first authentic and vital novels of the 21st century."—The Washington Post Book World

The accolades and acclaim are endless for William Gibson's coast-to-coast bestseller. Set in the post-9/11 present, Pattern Recognition is the story of one woman's never-ending search for the now...

Cayce Pollard is a new kind of prophet—a world-renowned "coolhunter" who predicts the hottest trends. While in London to evaluate the redesign of a famous corporate logo, she's offered a different assignment: find the creator of the obscure, enigmatic video clips being uploaded to the internet—footage that is generating massive underground buzz worldwide.
 
Still haunted by the memory of her missing father—a Cold War security guru who disappeared in downtown Manhattan on the morning of September 11, 2001—Cayce is soon traveling through parallel universes of marketing, globalization, and terror, heading always for the still point where the three converge. From London to Tokyo to Moscow, she follows the implications of a secret as disturbing—and compelling—as the twenty-first century promises to be...
About the Author
---
William Gibson's first novel, Neuromancer, won the Hugo Award, the Philip K. Dick Memorial Award, and the Nebula Award in 1984. He is the New York Times bestselling author of Count Zero, Mona Lisa Overdrive, Burning Chrome, Virtual Light, Idoru, All Tomorrow's Parties, Pattern Recognition, Spook Country, Zero History, Distrust That Particular Flavor, and The Peripheral. He lives in Vancouver, British Columbia, with his wife.
Praise For…
---
"A masterful performance."—Chicago Tribune

"Gibson nails the texture of internet culture: how it feels to be close to someone you know only as a voice in a chat room, or to fret about someone spying on your browser's list of sites visited."—The New York Times

"Completely contemporary...his best book."—San Francisco Chronicle Book Review
"[An] eerie vision of our time."—The New Yorker
 
"Pattern Recognition races along like an expert thriller, but it rides on a strong current of melancholy, of elegy for the broken and the vanished...Gibson knows he's building on ground zero."—GQ

"So good it defies all the usual superlatives."—The Seattle Times
 
"It turns out that William Gibson knows as much about the present as he does about the future...a masterful performance from a major novelist who seems to be just now hitting his peak. Welcome to the present, Mr. Gibson."—Chicago Tribune

"Gibson's first novel to take place in the present takes you on a reckless journey of espionage and lies and doesn't promise a safe return...wonderfully chilling...a dangerously hip book."—USA Today
 
"[Gibson], who invented the future with Neuromancer, shows he's just as skilled at seeing the present."—Entertainment Weekly
 
"A serious thriller set in the dystopian present...glossy [and] well-paced."—Time