Mother Jones and Her Army of Mill Children (Hardcover)
COVID-19 Update
As we do every year, we will be CLOSED on Easter Sunday.
March 30: In his March 30 press briefing, Governor Northam continues to say that businesses like Prince Books may remain open to customers as long as we practice social distancing. We are currently processing many online, email and phone orders, and we continue to receive boxes from our wholesaler and publishers. You are welcome to request curbside delivery, or you may come into the store. We spray the counter and the doors throughout the day. Please continue to order from us! Thank you for your business.
For now, Prince Books intends to remain open. If you would like a book and don't want to come into the store, please call us with your book request and credit card number, (or place order at prince-books.com), tell us that you would like us to bring your purchase out to your car. Park on Martin's Lane next to the back door, and call us so we can run your purchase out to you.
In the meantime we'll be closing daily at 5 p.m. Thank you for your business!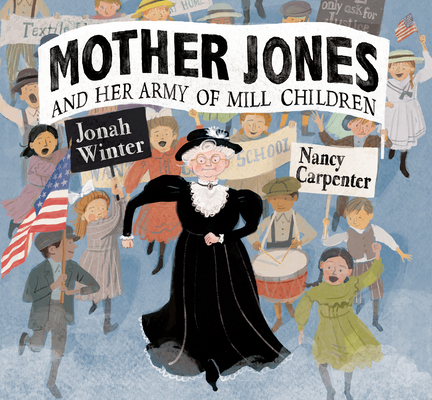 Description
---
A stunning picture book about Mary "Mother" Jones and the 100 children who marched from Philadelphia to New York in a fiery protest against child labor.

Here's the inspiring story of the woman who raised her voice and fist to protect kids' childhoods and futures-- and changed America forever. Mother Jones is MAD, and she wants you to be MAD TOO, and stand up for what's right! Told in first-person, New York Times bestelling author, Jonah Winter, and acclaimed illustrator, Nancy Carpenter, share the incredible story of Mother Jones, an Irish immigrant who was essential in the fight to create child labor laws. Well into her sixties, Mother Jones had finally had enough of children working long hours in dangerous factory jobs, and decided she was going to do something about it. The powerful protests she organized earned her the name "the most dangerous woman in America." And in the Children's Crusade of 1903, she lead one hundred boys and girls on a glorious march from Philadelphia right to the front door of President Theodore Roosevelt's Long Island home.

Open this beautiful and inspiring picture book to learn more about this feminist icon and how she inspired thousands to make change.
About the Author
---
Jonah Winter has written more than thirty highly acclaimed books for children, including The Secret Project, which received five starred reviews; Mickey Mantle: The Commerce Comet; Lillian's Right to Vote, which received four starred reviews; and You Never Heard of Casey Stengel, called "inspired" by the New York Times Book Review. Learn more at jonahwinter.com.

Nancy Carpenter is the illustrator of many books for children, including A Letter to My Teacher, by Deborah Hopkinson; Balderdash!: John Newbery and the Boisterous Birth of Children's Books by Michelle Merckel; and Dear Mr. Washington by Lynn Cullen, called "hilarious and bright, with clever attention to detail," by School Library Journal in a starred review. She lives in Brooklyn, New York. You can follow her on Twitter (@NancyCarpentr) and Facebook.
Praise For…
---
Praise for Mother Jones and Her Army of Mill Children:

"A stellar introduction to an important and ongoing social issue." —Kirkus, starred review

"Winter's affirmative text, paired with Carpenter's dramatic art featuring an insistent Mother, dramatically demonstrate both the injustice and determination." —Booklist, starred review

"Adroitly capture[s] both the grim reality of children at work and the irresistible hope of people coming together to demand change." —Publishers Weekly

"The theme—that progress is worth fighting for and may not show immediate success—is there for the taking." —The Horn Book

"An engaging topic for starting discussion of child labor in America's past and the worldwide child-labor abuses that continue today."  —The Bulletin 

Praise for Jonah Winter's Elvis is King!:

"Readers will want to pore over this thoroughly engaging volume." —Kirkus Reviews, starred review

"[A] sly, rollicking picture book bio of Elvis Presley and his rise from mic-shy blond tyke to teen dreamboat with product-infused raven hair who turned his stage-fright trembling into iconic sex appeal" —Bulletin, starred review

Praise for Nancy Carpenter's A Letter to My Teacher:

"A valuable lesson in empathy, internalized and paid forward."  —Kirkus Reviews, starred review

"Hopkinson's moving epistolary text and Carpenter's emotionally incisive flashbacks chronicle the evolving relationship between an impulsive second grader and her life-changing teacher." —Publishers Weekly, starred review