Big Sister, Little Sister, Red Sister: Three Women at the Heart of Twentieth-Century China (Hardcover)
COVID-19 Update
March 30: In his March 30 press briefing, Governor Northam continues to say that businesses like Prince Books may remain open to customers as long as we practice social distancing. We are currently processing many online, email and phone orders, and we continue to receive boxes from our wholesaler and publishers. You are welcome to request curbside delivery, or you may come into the store. We spray the counter and the doors throughout the day. Please continue to order from us! Thank you for your business.
For now, Prince Books intends to remain open. If you would like a book and don't want to come into the store, please call us with your book request and credit card number, (or place order at prince-books.com), tell us that you would like us to bring your purchase out to your car. Park on Martin's Lane next to the back door, and call us so we can run your purchase out to you.
In the meantime we'll be closing daily at 5 p.m. Thank you for your business!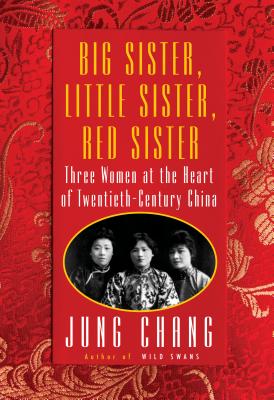 Description
---
They were the most famous sisters in China. As the country battled through a hundred years of wars, revolutions and seismic transformations, the three Soong sisters from Shanghai were at the center of power, and each of them left an indelible mark on history.

Red Sister, Ching-ling, married the 'Father of China', Sun Yat-sen, and rose to be Mao's vice-chair.
Little Sister, May-ling, became Madame Chiang Kai-shek, first lady of pre-Communist Nationalist China and a major political figure in her own right.
Big Sister, Ei-ling, became Chiang's unofficial main adviser - and made herself one of China's richest women.

All three sisters enjoyed tremendous privilege and glory, but also endured constant mortal danger. They showed great courage and experienced passionate love, as well as despair and heartbreak. They remained close emotionally, even when they embraced opposing political camps and Ching-ling dedicated herself to destroying her two sisters' worlds.

Big Sister, Little Sister, Red Sister is a gripping story of love, war, intrigue, bravery, glamour and betrayal, which takes us on a sweeping journey from Canton to Hawaii to New York, from exiles' quarters in Japan and Berlin to secret meeting rooms in Moscow, and from the compounds of the Communist elite in Beijing to the corridors of power in democratic Taiwan. In a group biography that is by turns intimate and epic, Jung Chang reveals the lives of three extraordinary women who helped shape twentieth-century China.
About the Author
---
JUNG CHANG (張戎) is the author of the best-selling books Wild Swans: Three Daughters of China (1991), which the Asian Wall Street Journal called the most read book about China; Mao: The Unknown Story (2005, with Jon Halliday), which was described by Time magazine as "an atom bomb of a book"; and Empress Dowager Cixi: The Concubine Who Launched Modern China (2013), a New York Times "notable book". Her books have been translated into more than 40 languages and sold more than 15 million copies worldwide. She has won many awards, including the UK Writers' Guild Best Non-Fiction and Book of the Year UK, and has received a number of honorary doctorates from universities in the UK and USA (Buckingham, York, Warwick, Dundee, the Open University, and Bowdoin College, USA). She is an Honorary Fellow of SOAS University of London.

Jung Chang was born in Sichuan Province, China, in 1952. During the Cultural Revolution (1966-1976) she worked as a peasant, a "barefoot" doctor, a steelworker, and an electrician before becoming an English-language student at Sichuan University. She left China for Britain in 1978 and obtained a PhD in Linguistics in 1982 at the University of York - the first person from Communist China to receive a doctorate from a British university.
Praise For…
---
"Deeply researched, Chang's book is a riveting read"—The New York Times Book Review
 
"Chang adds another title to her series of lively depictions of key figures in Modern Chinese history . . . This accessible book will appeal to history buffs and biography fans in addition to those already familiar with the Chang's body of work."—Library Journal
 
"The book intertwines the intimate with the big historical picture, tying their personal stories to the deep and irreconcilable political divisions among them . . . it is stamped by her revisionist impulse."—The Atlantic
 
"A highly readable and accessible introduction to three important women who deserve wider recognition."—Booklist

"Chang seamlessly chronicles the lives and marriages of the Soong sisters in this captivating triple biography. . . . This juicy tale will satisfy readers interested in politics, world affairs, and family dynamics." —Publishers Weekly

"One of this autumn's biggest reads, it's an astounding story told with verve and insight"—Stylist

"The complicated history of China during this period is little-known to most Westerners, so this readable book helps fill a gap. By hooking it onto personalities, Jung Chang has been able to chart a comprehensible way through these decades and an immense mass of information that could otherwise be difficult to digest."—Washington Times

"Big Sister, Little Sister, Red Sister is a monumental work . . . Its three fairy-tale heroines, poised between east and west, spanned three centuries, two continents and a revolution, with consequences that reverberate, perhaps now more than ever, in all our lives to this day."—The Spectator
 
"The book's strongest point is its nuanced sympathy for the sisters . . . The lives of the three Song sisters—the subjects of Jung Chang's spirited new book—are more than worthy of an operatic plot."—The Guardian
 
"[Chang] paints China's intense and complex history in bold strokes . . . It is a rollicking ride."—Literary Review
 
"Absorbing . . . In this lucid, wise, forgiving biography Chang gives a new twist to an old line. Behind every great man . . . is a Soong sister."—The Times (UK)

"Utterly engrossing…it stars a trio of extraordinary women, each of whom enjoyed tremendous privilege and fame, but also endured contact attached and mortal danger as well as heartbreak and despair. Their gripping collecting story reads like Wild Swans meets the Mitfords; and the history feels remarkably close to our own times too."—The Bookseller
 
"[Chang's] book is well worth reading, in particular for the way it shows how powerful women have helped to shape modern China. At a time when, 70 years after Mao's victory, the country's political leadership contains almost no prominent women at all, that is a particularly apposite message to hear."—The Sunday Times

"In the hands of master storyteller and contrarian Jung Chang, the old tale finds a new interpretation by one who knows well the intricacies of family, influence, gender, and power in modern China . . . A provocative view of the historical times that produced these extraordinary sisters"—Air Mail

"Her breathtaking new triple biography restores these "tiger-willed" women to their extraordinarily complex humanity . . . A gripping and emotional personal story."—The Telegraph