Essays on Immigration (Dover Thrift Editions) (Paperback)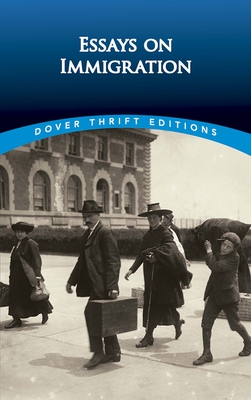 Other Books in Series
Description
---
In America, everything was possible, recalls Louis Adamic of Slovenia. There even the common people were 'citizens, ' not 'subjects' . . . a citizen, or even a non-citizen foreigner, could walk up to the President of the United States and pump his hand. Indeed, that seemed to be a custom in America.
The history and experience of immigration remain central to American culture, past and present. This anthology surveys the recollections of emigrants from around the world who sought new lives in the United States. Their stories range in mood and setting from the misery of an Englishman in colonial Virginia, bound by indentured servitude, to the cultural commentary of an Iranian woman in California. Poignant, eye-opening reflections include those of a Polish sweatshop laborer, a Chinese businessman, an Italian bootblack, and a Ukrainian musician, in addition to observations and reminiscences by Jacob Riis, Edwidge Danticat, Junot D az, and other well-known authors.

About the Author
---
Bob Blaisdell is professor of English at the City University of New York's Kingsborough Community College and the editor of twenty-two Dover literature and poetry collections.