Dear Ijeawele, or A Feminist Manifesto in Fifteen Suggestions (Paperback)
COVID-19 Update
March 30: In his March 30 press briefing, Governor Northam continues to say that businesses like Prince Books may remain open to customers as long as we practice social distancing. We are currently processing many online, email and phone orders, and we continue to receive boxes from our wholesaler and publishers. You are welcome to request curbside delivery, or you may come into the store. We spray the counter and the doors throughout the day. Please continue to order from us! Thank you for your business.
For now, Prince Books intends to remain open. If you would like a book and don't want to come into the store, please call us with your book request and credit card number, (or place order at prince-books.com), tell us that you would like us to bring your purchase out to your car. Park on Martin's Lane next to the back door, and call us so we can run your purchase out to you.
In the meantime we'll be closing daily at 5 p.m. Thank you for your business!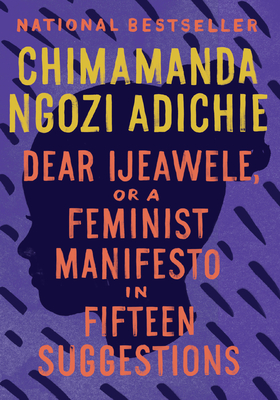 Description
---
A powerful statement about feminism today from the author of Americanah and We Should All Be Feminists.

A few years ago, Chimamanda Ngozi Adichie received a letter from a childhood friend, a new mother who wanted to know how to raise her baby girl to be a feminist. Dear Ijeawele is Adichie's letter of response: fifteen invaluable suggestions—direct, wryly funny, and perceptive—for how to empower a daughter to become a strong, independent woman. Filled with compassionate guidance and advice, it gets right to the heart of sexual politics in the twenty-first century, and starts a new and urgently needed conversation about what it really means to be a woman today.

A New York Times Best Seller ● A Skimm Reads Pick ● An NPR Best Book of the Year
About the Author
---
Chimamanda Ngozi Adichie is the author of award-winning and bestselling novels, including Americanah and Half of a Yellow Sun; the short story collection The Thing Around Your Neck; and the essay We Should All Be Feminists. A recipient of a MacArthur Fellowship, she divides her time between the United States and Nigeria.
Praise For…
---
"Dear Ijeawele is a volume as fierce and illuminating as bringing up a confident daughter, both with love at their core." —O, The Oprah Magazine

"I love this book so much, for many reasons. Chimamanda is one of my favorite authors." —Amber Tamblyn, GQ

"Adichie epitomizes and epistolizes our potential in Dear Ijeawele." —Sloane Crosely, Vanity Fair 

"Personal and urgent. . . . Adichie is passionate about equality. Her new book offers 15 ways that we can encourage girls to be strong, to plant seeds of feminism. But more than that, Adichie hopes the book will help 'move us toward a world that is more gender equal.' Doing so means knocking down ingrained assumptions about how men and women think and behave." —The Washington Post

"Adichie's suggestions are logical and stated clearly, full of her dry wit, and range from the obvious ('Do it together') to the bold ('Reject likeability'). . . . As much as this is a book written to mothers of daughters, fathers of daughters would benefit from reading it, too; parents in general would do well to try to raise children who won't have to grow up and read it at all. . . . Powerful and life-affirming, offering wisdom for everyone." —The Village Voice
 
"Adichie has partly written Dear Ijeawele to reclaim the word feminism from its abusers and misusers. Her advice is not only to provide children with alternatives—to empower boys and girls to understand there is no single way to be—but also to understand that the only universal in this world is difference.  Adichie is a brilliant novelist and a serious thinker, and she is also someone who makes no apology for her own trivial interests. Her understanding of feminism is intertwined with her understanding that we all want to be more than one thing." —The Guardian