The Back Channel: A Memoir of American Diplomacy and the Case for Its Renewal (Paperback)
COVID-19 Update
March 30: In his March 30 press briefing, Governor Northam continues to say that businesses like Prince Books may remain open to customers as long as we practice social distancing. We are currently processing many online, email and phone orders, and we continue to receive boxes from our wholesaler and publishers. You are welcome to request curbside delivery, or you may come into the store. We spray the counter and the doors throughout the day. Please continue to order from us! Thank you for your business.
For now, Prince Books intends to remain open. If you would like a book and don't want to come into the store, please call us with your book request and credit card number, (or place order at prince-books.com), tell us that you would like us to bring your purchase out to your car. Park on Martin's Lane next to the back door, and call us so we can run your purchase out to you.
In the meantime we'll be closing daily at 5 p.m. Thank you for your business!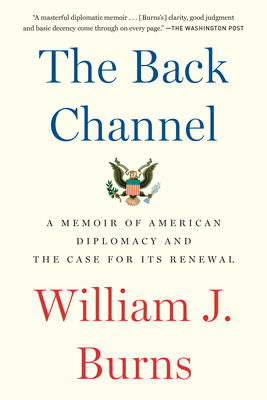 $20.00
Usually Ships in 1-5 Days
Description
---
"Bill Burns is a treasure of American diplomacy."—Hillary Clinton

"The Back Channel shows how diplomacy works, why it matters, and why its recent demise is so tragic."—Walter Isaacson, author of Leonardo da Vinci

Over the course of more than three decades as an American diplomat, William J. Burns played a central role in the most consequential diplomatic episodes of his time—from the bloodless end of the Cold War to the collapse of post–Cold War relations with Putin's Russia, from post–9/11 tumult in the Middle East to the secret nuclear talks with Iran.

In The Back Channel, Burns recounts, with novelistic detail and incisive analysis, some of the seminal moments of his career. Drawing on a trove of newly declassified cables and memos, he gives readers a rare inside look at American diplomacy in action. His dispatches from war-torn Chechnya and Qaddafi's bizarre camp in the Libyan desert and his warnings of the "Perfect Storm" that would be unleashed by the Iraq War will reshape our understanding of history—and inform the policy debates of the future. Burns sketches the contours of effective American leadership in a world that resembles neither the zero-sum Cold War contest of his early years as a diplomat nor the "unipolar moment" of American primacy that followed.

Ultimately, The Back Channel is an eloquent, deeply informed, and timely story of a life spent in service of American interests abroad. It is also a powerful reminder, in a time of great turmoil, of the enduring importance of diplomacy.

Advance praise for The Back Channel

"Bill Burns is simply one of the finest U.S. diplomats of the last half century. The Back Channel demonstrates his rare and precious combination of strategic insight and policy action. It is full of riveting historical detail but also, more important, shrewd insights into how we can advance our interests and values in a world where U.S. leadership remains the linchpin of international order."—James A. Baker III

"From one of America's consummate diplomats, The Back Channel is an incisive and sorely needed case for the revitalization of diplomacy—what Burns wisely describes as our 'tool of first resort.'"—Henry Kissinger

"Burns not only offers a vivid account of how American diplomacy works, he also puts forward a compelling vision for its future that will surely inspire new generations to follow his incredible example."—Madeleine K. Albright
About the Author
---
William J. Burns is president of the Carnegie Endowment for International Peace. He retired from the U.S. Foreign Service in 2014 after a thirty-three-year diplomatic career. He holds the highest rank in the Foreign Service, career ambassador, and is only the second serving career diplomat in history to become deputy secretary of state. Prior to his tenure as deputy secretary, Ambassador Burns served from 2008 to 2011 as undersecretary for political affairs. He was ambassador to Russia from 2005 to 2008, assistant secretary of state for near eastern affairs from 2001 to 2005, and ambassador to Jordan from 1998 to 2001. Ambassador Burns earned a bachelor's degree in history from La Salle University and master's and doctoral degrees in international relations from Oxford University, where he studied as a Marshall Scholar. He and his wife, Lisa, have two daughters.
Praise For…
---
"Bill Burns is simply one of the finest U.S. diplomats of the last half century. The Back Channel demonstrates his rare and precious combination of strategic insight and policy action. It is full of riveting historical detail but also, more important, shrewd insights into how we can advance our interests and values in a world where U.S. leadership remains the linchpin of international order."—James A. Baker III
 
"Bill Burns is a stellar exemplar of the grand tradition of wise Americans who made our country the indispensable nation in this world. The Back Channel shows how diplomacy works, why it matters, and why its recent demise is so tragic."—Walter Isaacson, author of Leonardo da Vinci

"Bill Burns is a treasure of American diplomacy and a model of the American idea and spirit when we need it most. In The Back Channel, Burns provides another great act of public service by giving us a smart, plainspoken account of America's changing role in the world and the power and purpose of American diplomacy at its best."—Hillary Clinton
 
"From one of America's consummate diplomats, The Back Channel is an incisive and sorely needed case for the revitalization of diplomacy—what Burns wisely describes as our 'tool of first resort.'"—Henry Kissinger

"The Back Channel is a masterfully written memoir from one of America's most accomplished and respected diplomats. Burns not only offers a vivid account of how American diplomacy works, he also puts forward a compelling vision for its future that will surely inspire new generations to follow his incredible example."—Madeleine K. Albright

"Told with humor and humility, The Back Channel brings all the behind-the-scenes efforts into the light, and brings readers into the room to share the journey of a talented, tough-minded diplomat par excellence who served as conduit and catalyst in making America stronger."—John Kerry

"The Back Channel deserves to be widely read—it's a great book filled with fascinating stories and the kind of wisdom that is sorely needed these days."—George P. Shultz

"Bill Burns, one of the most respected diplomats of the post–Cold War years, has now written what I regard as the best diplomatic memoir of that period—must reading for anyone looking back on an era that's now ending, and for any young person looking forward to diplomacy as a profession in whatever era is likely to come."—John Lewis Gaddis, Robert A. Lovett Professor of Military and Naval History, Yale University

"An engaging tale of modern statecraft full of fascinating eyewitness accounts of several important events in modern international history . . . Burns's compelling, fast-paced, and witty narrative is necessary reading for America's next generation of diplomats."—Condoleezza Rice