The Snowman (Movie Tie-In Edition) (Harry Hole Series) (CD-Audio)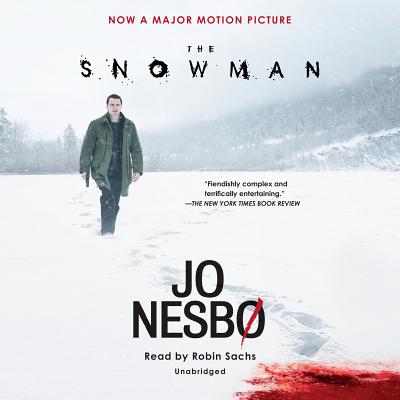 Description
---
Inspector Harry Hole tracks a Norwegian serial killer in this installment of Jo Nesbø's New York Times bestselling series. Now a Major Motion Picture starring Michael Fassbender.

One night, after the first snowfall of the year, a boy named Jonas wakes up and discovers that his mother has disappeared. Only one trace of her remains: a pink scarf, his Christmas gift to her, now worn by the snowman that inexplicably appeared in their yard earlier that day.  Inspector Harry Hole suspects a link between the missing woman and a suspicious letter he's received. The case deepens when a pattern emerges: over the past decade, eleven women have vanished—all on the day of the first snow. But this is a killer who makes his own rules . . . and he'll break his pattern just to keep the game interesting, as he draws Harry ever closer into his twisted web. With brilliantly realized characters and hair-raising suspense, international bestselling author Jo Nesbø presents his most chilling case yet—one that will test Harry Hole to the very limits of his sanity.
About the Author
---
Jo Nesbø is a musician, songwriter, and economist as well as a writer. His Harry Hole novels include The Redeemer, The Snowman, The Leopard, and Phantom, and he is also the author of several stand-alone novels and the Doctor Proctor series of children's books. He is the recipient of numerous awards, including the Glass Key for best Nordic crime novel. He lives in Oslo.

Don Bartlett has translated many Norwegian works, including the novels by Jo Nesbø. He lives in England with his family.

Robin Sachs's career as an actor in film, television, and stage spanned two continents, having moved to the United States from his native England in 1991. His credits include Buffy the Vampire Slayer, Alias, Dynasty, Rob Roy, and Chessgame on television and Galaxy Quest, Northfork, The Lost World: Jurassic Park, Megalodon, and Ocean's Eleven in film. He also worked extensively in voice-over, animation, and on the London stage. He passed away in February 2013.
Praise For…
---
Praise for Jo Nesbø and The Snowman

"Jo Nesbø is my new favorite thriller writer and Harry Hole my new hero." —Michael Connelly

"Fiendishly complex and terrifically entertaining." —The New York Times Book Review

"If you don't know Nesbø, it's time to get with it." —USA Today

"Nesbø explores the darkest criminal minds with grim delight and puts his killers where you least expect to find them. . . . His novels are maddeningly addictive." —Vanity Fair
 
"A superb thriller—smart, stylish, beautifully paced and meticulously plotted." —Newsday 

"The Snowman is strung together with great care, playful in certain stretches, grisly in others, all of it highly readable." —Newsweek
 
"The writer most likely to take the ice-cold crown in the critically acclaimed—and now bestselling—category of Nordic noir." —Los Angeles Times
 
"Nesbø's books have a serious, socially significant heft, as well as a confident (even cocky) narrative stride that is unmatched. These aren't mere investigatory trifles to be enjoyed and forgotten; their unnerving horrors linger." —Richmond Times-Dispatch
 
"Nesbø's pace is unerring, and the way he builds up suspense will incite Pavlovian page-turning." —Time Out New York
 
"This is reading as you experienced it in childhood, without any gap between eye and mind, but with the added pleasures that adult plots and adult characters can bring. . . . Unputdownable. The Snowman is probably the most terrifying and certainly the most addictive book in the whole series." —Slate
 
"This is crime writing of the highest order, in which the characters are as strong as the story, where an atmosphere of evil permeates, and the tension begins in the first chapter and never lets up." —The Times (London)
 
"Spine-chilling. . . . This most ambitious of Nesbø's crime novels banishes any fears that the omniscient serial killer scenario has been exhausted." —The Independent (London)
 
"Macabre and disturbing. . . . Deft plotting, strong characterization, adrenaline-fuelled action sequences and a whole raft of social issues raised along the way make this book a spectacularly good example of how a tried and tested (and often tired) formula can be made exhilarating and fresh." —The Guardian (London) 
 
"Hole is all a fictional detective should be." —Times Literary Supplement 
 
"If you're still grieving the loss of Stieg Larsson, it's time to move on. Nesbø's waiting for you." —Milwaukee Journal Sentinel