Redhead by the Side of the Road: A novel (Hardcover)
COVID-19 Update
March 30: In his March 30 press briefing, Governor Northam continues to say that businesses like Prince Books may remain open to customers as long as we practice social distancing. We are currently processing many online, email and phone orders, and we continue to receive boxes from our wholesaler and publishers. You are welcome to request curbside delivery, or you may come into the store. We spray the counter and the doors throughout the day. Please continue to order from us! Thank you for your business.
For now, Prince Books intends to remain open. If you would like a book and don't want to come into the store, please call us with your book request and credit card number, (or place order at prince-books.com), tell us that you would like us to bring your purchase out to your car. Park on Martin's Lane next to the back door, and call us so we can run your purchase out to you.
In the meantime we'll be closing daily at 5 p.m. Thank you for your business!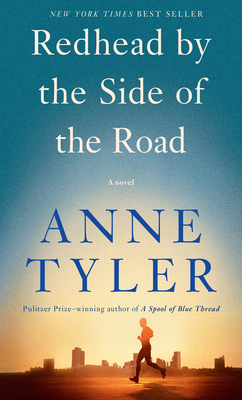 $26.95
Coming Soon - Available for Pre-Order Now
Description
---
From the beloved and best-selling Anne Tyler, a sparkling new novel about misperception, second chances, and the sometimes elusive power of human connection.

Micah Mortimer is a creature of habit. A self-employed tech expert, superintendent of his Baltimore apartment building, cautious to a fault behind the steering wheel, he seems content leading a steady, circumscribed life. But one day his routines are blown apart when his woman friend (he refuses to call anyone in her late thirties a "girlfriend") tells him she's facing eviction, and a teenager shows up at Micah's door claiming to be his son. These surprises, and the ways they throw Micah's meticulously organized life off-kilter, risk changing him forever. An intimate look into the heart and mind of a man who finds those around him just out of reach, and a funny, joyful, deeply compassionate story about seeing the world through new eyes, Redhead by the Side of the Road is a triumph, filled with Anne Tyler's signature wit and gimlet-eyed observation.
About the Author
---
ANNE TYLER was born in Minneapolis, Minnesota, in 1941 and grew up in Raleigh, North Carolina. She is the author of more than twenty novels. Her twentieth novel, A Spool of Blue Thread, was shortlisted for the Man Booker Prize in 2015. Her eleventh novel, Breathing Lessons, was awarded the Pulitzer Prize in 1989. She is a member of the American Academy of Arts and Letters. She lives in Baltimore, Maryland.
Praise For…
---
"Not a word is wasted in this slim, beautiful novel. Reading Anne Tyler is always pure pleasure, and Redhead by the Side of the Road is the author at her best. This joyful book is a powerful reminder of how much we need human connection."—Amy Scribner, BookPage (starred)

"Tyler's warmly comedic, quickly read tale, a perfect stress antidote, will delight her fans and provides an excellent 'first' for readers new to this master of subtle and sublime brilliance . . . If Tyler's large-cast, many-faceted novels are symphonies, this portrait of a man imprisoned by his routines is a concerto . . . Radiantly polished and emotionally intricate . . . Tyler's perfectly modulated, instantly enmeshing, heartrending, funny, and redemptive tale sweetly dramatizes the absurdities of flawed perception and the risks of rigidity."—Donna Seaman, Booklist
 
"Characteristically tender . . . Suffused with feeling and very moving."—Kirkus Reviews (starred)