The Big Roads: The Untold Story of the Engineers, Visionaries, and Trailblazers Who Created the American Superhighways (Paperback)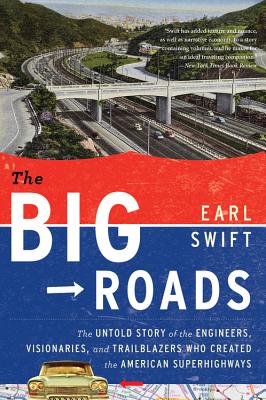 Description
---
"Travelers hitting the highways this summer might better appreciate the asphalt beneath their tires thanks to this engrossing history of the creation of the U.S. interstate system."—Los Angeles Times

Perhaps nothing changed the face of America more than the creation of the interstate system. At once man-made wonders, economic pipelines, agents of sprawl, and uniquely American sirens of escape, the interstates snake into every aspect of modern life. The Big Roads documents their historic creation and the many people they've affected, from the speed demon who inspired a primitive web of dirt auto trails, to the cadre of largely forgotten technocrats who planned the system years before Ike reached the White House, to the thousands of city dwellers who resisted the concrete juggernaut when it bore down on their neighborhoods.

The Big Roads tells the story of this essential feature of the landscape we have come to take for granted. With a view toward players both great and small, Swift gives readers the full story of one of America's greatest engineering achievements.

"Engaging, informative . . . The first thorough history of the expressway system."—Jonathan Yardley, Washington Post

"The book is a road geek's treasure—and everyone who travels the highways ought to know these stories."—Kirkus Reviews
About the Author
---
EARL SWIFT is the author of three previous books, including Where They Lay, a 2003 PEN finalist. He lives in Virginia with his daughter Saylor.
Praise For…
---
"America's interstate system tied together urban areas, bypassed thousands of small-town main streets, fanned the sprawl of suburbia, and sent millions of baby boomers on road trips with their parents, asking, 'Are we there yet?' With a great sense of how this changed the country, Earl Swift has told an intriguing tale of vision, personal sacrifice, and can-do determination." —Walter R. Borneman, author of Rival Rails: The Race to Build America's Greatest Transcontinental Railroad "Objects in the rearview mirror prove eerily close on every page of this lively, eminently sensible history of the guardrailed monument to American mobility." —John R. Stilgoe, author of Train Time: Railroads and the Imminent Reshaping of the United States Landscape "A joy ride. Earl Swift has written the best kind of popular history--one that paints vivid portraits, debunks myths and brings to life the fascinating and appalling stories behind the creation of that massive mixed blessing known as America's interstate highways."—Bill Morris, author of Motor City "Swift has added texture and nuance, as well as narrative economy, to a story containing volumes, and he makes for an ideal traveling companion." —New York Times Book Review "Travelers hitting the highways this summer might better appreciate the asphalt beneath their tires thanks to this engrossing history of the creation of the U.S. interstate system."—Los Angeles Times "Engaging, informative . . . The first thorough history of the expressway system."—Washington Post
"The book is a road geek's treasure—and everyone who travels the highways ought to know these stories." —Kirkus "Readers interested in urban planning as well as engineering will find a well-told story about a defining American feature." —Publishers Weekly "