Children of the Flying City (Paperback)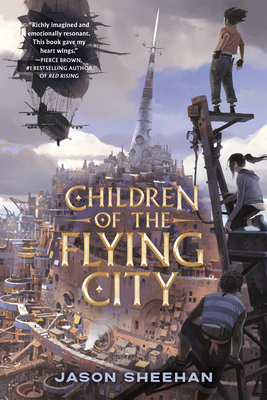 Description
---
"Richly imagined and emotionally resonant, Children of the Flying City is a fantasy for young and old alike. This book gave my heart wings."
–Pierce Brown, #1 New York Times bestselling author of Red Rising

"Children of the Flying City feels, at once, timeless and wondrously, gloriously new."
–Katie Williams, author of Tell the Machine Goodnight

Brought to the flying city of Highgate when he was only five years old, orphan Milo Quick has never known another home. Now almost thirteen, Milo survives one daredevil grift at a time, relying only on his wit, speed, and best friends Jules and Dagda.

A massive armada has surrounded Highgate's crumbling armaments. Because behind locked doors—in opulent parlors and pneumatic forests and a master toymaker's workshop—the once-great flying city protects a powerful secret, hidden away for centuries. A secret that's about to ignite a war. One small airship, the Halcyon, has slipped through the ominous blockade on a mission to collect Milo—and the rich bounty on his head—before the fighting begins. But the members of the Halcyon's misfit crew aren't the only ones chasing Milo Quick.
 
True friendship is worth any risk in this clever, heart-racing adventure from award-winning author and journalist Jason Sheehan. Sheehan weaves together wry narration and multiple points of view to craft a richly imagined tale that is dangerous and surprising, wondrous and joyful.
 


About the Author
---
Jason Sheehan is an award-winning freelance journalist and author. In addition to being a book and video game critic for NPR, he has published three books for adults. This is his first book for young readers.
Praise For…
---
"Sheehan crafts a richly detailed world and uses multiple points of view to relate the narrative, keeping the characters central to the high-stakes plot. Following in the tradition of Kenneth Oppel's Airborn and Philip Reeve's Fever Crumb, this fantasy, full of lessons about close friendships and the power of fighting for what's right, will hook readers seeking adventure." –Booklist

"An arch, omniscient narrative—by turns brutal and sweet—unspools into an ambitious, wide-ranging story of survival and loyalty." –Publishers Weekly

"Perfect for anyone who loves action and mystery and cliffhanger endings." –SLC

"Richly imagined and emotionally resonant, Children of the Flying City is a fantasy for young and old alike. At times evoking the starkness of Cormac McCarthy and the dark, humanistic fantasy of Stephen King, Sheehan will make your imagination soar, tear your heart back to the ground, dust you off, then send you back to the sky with a grin on your face. This book gave my heart wings."
–Pierce Brown, #1 New York Times bestselling author of Red Rising
 
"Children of the Flying City feels, at once, timeless and wondrously, gloriously new. Jason Sheehan has crafted the bones of a great story, the prickling flesh of unforgettable characters, the gasp of gorgeous language, and he's tucked a velvety, multi-chambered secret at the book's center."
–Katie Williams, author of Tell the Machine Goodnight