The Truth Will Set You Free, But First It Will Piss You Off!: Thoughts on Life, Love, and Rebellion (Hardcover)
COVID-19 Update
As we do every year, we will be CLOSED on Easter Sunday.
March 30: In his March 30 press briefing, Governor Northam continues to say that businesses like Prince Books may remain open to customers as long as we practice social distancing. We are currently processing many online, email and phone orders, and we continue to receive boxes from our wholesaler and publishers. You are welcome to request curbside delivery, or you may come into the store. We spray the counter and the doors throughout the day. Please continue to order from us! Thank you for your business.
For now, Prince Books intends to remain open. If you would like a book and don't want to come into the store, please call us with your book request and credit card number, (or place order at prince-books.com), tell us that you would like us to bring your purchase out to your car. Park on Martin's Lane next to the back door, and call us so we can run your purchase out to you.
In the meantime we'll be closing daily at 5 p.m. Thank you for your business!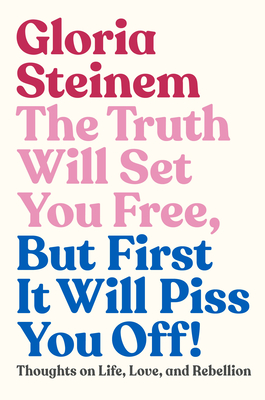 Description
---
A beautifully illustrated collection of Gloria Steinem's most inspirational and outrageous quotes, with an introduction and essays by the feminist activist herself

"A fearless book full of passion, resolute perspective, and unbiased hope for the future."—Janelle Monáe

For decades—and especially now, in these times of crisis—people around the world have found guidance, humor, and unity in Gloria Steinem's gift for creating quotes that offer hope and inspire action. From her early days as a journalist and feminist activist, Steinem's words have helped generations to empower themselves and work together.

Covering topics from relationships ("Many are looking for the right person. Too few are trying to be the right person.") to the patriarchy ("Men are liked better when they win. Women are liked better when they lose. This is how the patriarchy is enforced every day.") and activism ("Revolutions, like trees, grow from the bottom up."), this is the definitive collection of Steinem's words on what matters most. Steinem sees quotes as "the poetry of everyday life," so she also has included a few favorites from friends, including bell hooks, Flo Kennedy, and Michelle Obama, in this book that will make you want to laugh, march, and create some quotes of your own. In fact, at the end of the book, there's a special space for readers to add their own quotes and others they've found inspiring.

The Truth Will Set You Free, But First It Will Piss You Off! is both timeless and timely. It is a gift of hope from Steinem to readers, and a book to share with friends.
About the Author
---
Gloria Steinem is a writer, political activist, and feminist organizer. She was a founder of New York and Ms. magazines, and has authored many books, including My Life on the Road, Moving Beyond Words, Revolution from Within, and Outrageous Acts and Everyday Rebellions. The organizations she co-founded include the Ms. Foundation for Women, the Women's Media Center, and Equality Now. She has also produced documentaries, most recently, with Amy Richards, Woman, for VICELAND, a series on global violence against women. In 2013, President Barack Obama awarded her the Presidential Medal of Freedom.
 
Samantha Dion Baker graduated from The Cooper Union in New York City and spent more than twenty years working as a graphic designer. Now a full-time illustrator, artist, and author, she lives and works in Brooklyn with her husband and two sons.
Praise For…
---
"Democracy is the tree, families are the roots. —GS. Trust Gloria Steinem to offer insights that liberate us into broader, more profound ways of thinking. Her mind is fertile, deep, conscious, and inspiring, with a humor that apparently can't help bubbling up, so that we are laughing as we, hopefully, become more wise and determined to change whatever we can change."—Alice Walker
 
"Gloria has a profound knack for expressing ideas in ways that stick with you. When trying to explain something that I can't seem to wrap my own words around, I very often reach for one of Gloria's quotes. This beautiful book of her words will no doubt make one of the most quotable women I know even more eminently quotable."—Emma Watson
 
"When the path is dark, Gloria's words light the way forward. I find myself returning again and again to her words for inspiration, comfort, and wisdom. She has a way of saying things you feel you knew but never knew how to articulate. Other times, she expresses ideas you've never encountered, but once you've heard them, they are impossible to deny. Her words contain the poetic clarity only truth offers."—Natalie Portman
 
"Gloria brings honest poetry to readers while sharing her experienced wisdom on topics that demand our attention today. From personal challenges to political issues, The Truth Will Set You Free, But First It Will Piss You Off! explores the power of words when it comes to being a changemaker for yourself and for the good of humanity. And if that's not enough to move you, the beautiful illustrations will inspire you along the way."—Janelle Monáe