Funny Business: The Legendary Life and Political Satire of Art Buchwald (Hardcover)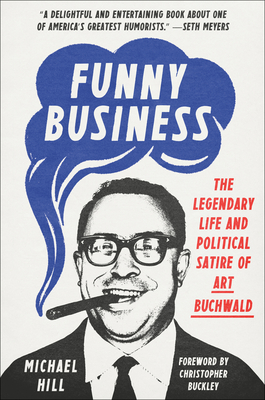 Description
---
"A delightful and entertaining book about one of America's greatest humorists."—Seth Meyers

This "absorbing, illuminating" (Jon Meacham) biography of the legendary political humorist reveals the life behind his must-read Washington Post columns, featuring never-before-published photos, documents, and interviews.

Before Jon Stewart, Stephen Colbert, Trevor Noah, and Doonesbury, there was Art Buchwald. For more than fifty years, from 1949 to 2006, Art Buchwald's Pulitzer Prize–winning column of political satire and biting wit made him one of the most widely read American humorists and a popular player in the Washington world of Ethel and Ted Kennedy, Ben Bradlee, and Katharine Graham. Dean Acheson, former U.S. Secretary of State, called Buchwald the "greatest satirist in the English language since Pope and Swift."

Drawing on Buchwald's most memorable columns and unpublished correspondence with other famous people, Funny Business shows how Art Buchwald became an American original. Like Mark Twain, Dorothy Parker, and James Thurber, he satirized political scoundrels, lampooned the powerful, and "worshipped the quicksand" that ten presidents walked on, as Buchwald joked. "The key to Buchwald's style of humor, he once stated, was to "treat light subjects seriously and serious subjects lightly."

But there was a darker, more serious side to Art Buchwald. A childhood spent in foster homes taught him to see comedy as a refuge. Buchwald also struggled with depression, a secret he kept from the public for nearly thirty years.

This revealing book is studded with stories of Buchwald's friendships with Humphrey Bogart, John Steinbeck, Irwin Shaw, William Styron, Erma Bombeck, Frank Sinatra, Adam West ("Batman"), Robert Frost, and others. Throughout his career, Buchwald wrote about such historical events as the Vietnam War, the assassinations of John and Robert Kennedy, Watergate, and the 9/11 terrorist attack. Featured here are stories of Buchwald's nonstop one-liners, known in his day as "Buchshots."

Entertaining and absorbing, Funny Business looks back on Buchwald's brilliant gift for humor and satire, which will once again bring readers a comedic respite from troublesome times.
About the Author
---
Michael Hill is a historical researcher who has assisted acclaimed authors including David McCullough, Jon Meacham, Senator John McCain, and Michael Beschloss. He won an Emmy Award for his work as a co-producer on Ken Burns's PBS series The Civil War and served as a historical consultant on the HBO miniseries John Adams. A graduate of the Kennedy School of Government at Harvard University, Hill also served as a press assistant to former vice president Walter F. Mondale.
Praise For…
---
"A delightful and entertaining book about one of America's greatest humorists…Funny Business brings Art Buchwald's charming and zany career back to life."—Seth Meyers

"[An] absorbing biography of 'one of America's greatest satirists.'"—The New York Times

"In this absorbing, illuminating, and wonderfully entertaining book, Michael Hill brings the great Art Buchwald back to vivid life. Satire has been a force in political life since antiquity, and Hill's account, based on unparalleled access to Buchwald's personal papers, explores both an era and a man with grace and skill."—Jon Meacham, author of American Lion

"There was a time not that long ago when Americans of all views saw political humor mainly as entertainment, not as a weapon for bashing the other side. The most beloved figure in those gentler pre-Twitter times was Art Buchwald—a fun-loving bon vivant, a sweetheart, and, above all, a ridiculously funny man whose columns made Americans, whatever their politics, laugh together. We could use him now. But if we can't have Art, we can, through this delightful book, relive the many wonderful times he gave us."—Dave Barry, author of Best. State. Ever.

"Art Buchwald was my first newspaper hero. I sent him a bunch of my columns from the college paper, and he wrote back to say he liked them. 'But if you keep writing,' he added, 'I'll have to kill you.' In today's reeking dumpster fumes of American politics, we could use a columnist as mercilessly fast and funny as Buchwald. The problem is that there will never be anyone as good, and Michael Hill's rousing and revealing book reminds us why."—Carl Hiaasen, author of Squeeze Me 

"Michael Hill has provided the perfect antidote to the vapidity and bile of our mean-spirited times. The story of the columnist who knew how to make a nation laugh at its own absurdities—three times a week—Funny Business is a delightful romp of a book."—Nathaniel Philbrick, author of In the Heart of the Sea

"A heartfelt tribute to one of American journalism's most influential jesters."—Kirkus Reviews