Silent Spring (Paperback)
COVID-19 Update
For now, Prince Books intends to remain open. If you would like a book and don't want to come into the store, please call us with your book request and credit card number, (or place order at prince-books.com), tell us that you would like us to bring your purchase out to your car. Park on Martin's Lane next to the back door, and call us so we can run your purchase out to you.
In the meantime we'll be closing daily at 5 p.m. Thank you for your business!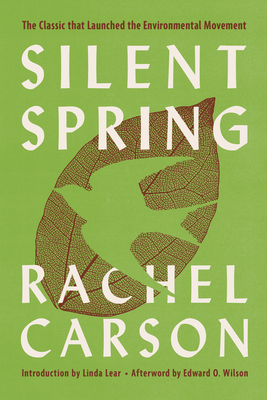 Description
---
Rachel Carson's Silent Spring was first published in three serialized excerpts in the New Yorker in June of 1962. The book appeared in September of that year and the outcry that followed its publication forced the banning of DDT and spurred revolutionary changes in the laws affecting our air, land, and water. Carson's passionate concern for the future of our planet reverberated powerfully throughout the world, and her eloquent book was instrumental in launching the environmental movement. It is without question one of the landmark books of the twentieth century.  

About the Author
---
Rachel Carson (1907–1964) spent most of her professional life as a marine biologist with the U.S. Fish and Wildlife Service. By the late 1950s, she had written three lyrical, popular books about the sea, including the best-selling The Sea Around Us, and had become the most respected science writer in America. She completed Silent Spring against formidable personal odds, and with it shaped a powerful social movement that has altered the course of history.
Coverage from NPR