The High Line (Hardcover)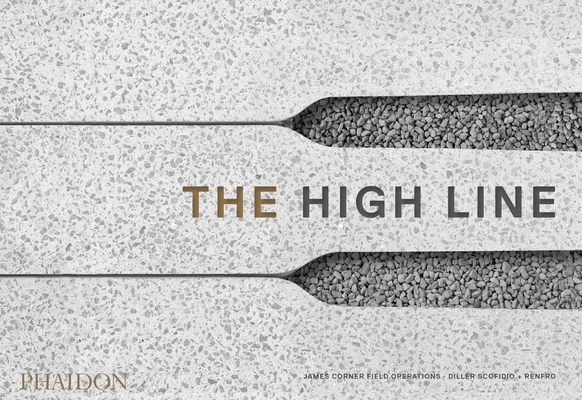 Description
---
The first-hand, behind-the-scenes account of the creative inspiration behind the High Line, the transformative public 'park in the sky' that has reshaped global perceptions of urban space – and become one of the most beloved and visited destinations in New York City.
The first full documentation that visually charts the journey of this global landmark from the designer's point of view. Hundreds of illustrations showcase every aspect of the project and its unforeseen influence in its entirety. Includes previously unpublished archival materials such as the drawings behind the original proposal and exclusive images of construction.
The book mirrors the architecture and composition of the park through its large landscape format with foldouts, surprising packaging and inserts. More than a visual masterpiece – its seven chapters are well-organized, legible, comprehensive and accessible. Detailed, obsessive, quirky, compelling, and beautiful, the book captures the essence of the High Line.
THE book for design enthusiasts including architects, landscape designers and urban planners - as well as for general-interest lovers of New York City, culture, art, gardens, and city life.
About the Author
---
James Corner Field Operations is an award-winning, international landscape architecture, urban and public realm design firm based in New York City. The practice is renowned for strong contemporary design across a variety of project types and scales, from large urban districts and complex post-industrial sites, to small well-crafted, detail design projects. James Corner is recipient of the National Design Award and the Academy of Arts and Letters Architecture Award, among others.
Diller Scofidio + Renfro is an interdisciplinary design studio that integrates architecture, the visual arts and the performing arts. The firm established its identity through theoretical and self-generated projects before coming to international prominence through projects such as Lincoln Center for the Performing Arts and the recently opened Broad Museum. For their commitment to merging art, architecture, and culture, founding partners Diller and Scofidio were the first in architecture to be recognized with the MacArthur Foundation "genius" award.
Praise For…
---
"Comprehensive... a feat in its own right... a labour of love... Though nothing replaces being there, this book, with its abundance of photos, renderings and plans... is an enriching accompaniment for an architect, landscape architect, designer, urban planner." —World of Interiors
"A guide to the rebirth of New York City's High Line, the book shows the formerly derelict site's makeover into an alluring community space and tourist attraction." —Time
"Oversize photographs of the construction process as well as views of the finished product offer a nuanced appreciation of the architectural efforts of James Corner Field Operations and Diller Scofidio + Renfro." —The Wall Street Journal
"A great book for anyone with more than a passing interest in gardening, public parks and urban architecture." —Irish Examiner
"The designers' detailed personal account (and manual) for High Line lovers." —The New York Times
"Documents the park's design work in detail...Flipping through its pages makes clear that, as Diller puts it, [visitors] are freed from the everyday in order to see the everyday anew." —Surface
"A piece of performance art, a richly illustrated tour that captures not only the park's history but its blooming, buzzy feel. The photographs are breathtaking, and so is the display of plans and drawings" —New York Times
"This comprehensive tome tells the decade-long story of the elevated park's development in the designers' and developers' own words—a unique approach for an equally unique project" —Bloomberg Pursuits
"One of Fall's 10 Best New Coffee Table Books" —Bloomberg Pursuits
"Consider this a behind-the-scenes glimpse, from conception to afterthoughts, provided by the architects and designers who were responsible for bringing The High Line to life." —Metropolis
"the world's most innovative park" —Mayor Bloomberg on The High Line
"The High Line serves up the Big Apple on a platter 30 feet high" —Washington Post on The High Line
"Apparently imbued with almost miraculous transformational powers [The High Line] is the envy of every post-industrial city blessed or cursed with lumps of defunct infrastructure, and an image on the project mood boards of every urban regeneration consultant. ...One for the shelf of any designer whose clients now want something a bit like the High Line." —Architecture Today
"I was captivated by this book."—Thomas Keller, Vulture