Papa Put a Man on the Moon (Hardcover)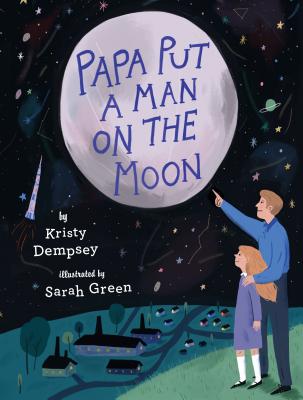 $17.99
Usually Ships in 1-5 Days
Description
---
In time for the fiftieth anniversary of the moon landing, this father-daughter story celebrates a small community's big contribution to one of America's greatest accomplishments.

Marthanne and her father sit side by side, looking out over their mill village as the moon glows in the sky. Marthanne hopes that one day, man will walk on the moon, and she knows her father is helping America accomplish this mission: The fabric he weaves forms one layer in the astronauts' spacesuits. Papa insists he's only making a living, but Marthanne knows his work is part of history, and she's proud. She tries to be patient, but she can't stop imagining the moon mission: the astronauts tumbling through space, the fabric her papa made traveling all the way up into the sky. When the astronauts blast off and Neil Armstrong finally takes his first steps on the moon, Marthanne watches in wonder. She knows her papa put a man on the moon.
About the Author
---
Kristy Dempsey is the author of eight picture books, including Me with You, Surfer Chick, Superhero Instruction Manual, and A Dance Like Starlight, which was named a JLG selection, ALA Notable Book, Bank Street Best of 2015, CCBC 2015 Choice, and the winner of the 2015 Golden Kite Award for Picture Book Text. Since 1998, Kristy has lived in Belo Horizonte, Brazil, with her husband and three children, where she works as a middle school and high school English teacher.

Sarah Green is the illustrator of Dorothea Lange: The Photographer Who Found the Faces of the Depression and Elizabeth Warren: Nevertheless, She Persisted (Summer 2018). She studied illustration at the Rhode Island School of Design before moving back to her hometown of San Francisco.
Praise For…
---
Praise for Papa Put a Man on the Moon

"Green illustrates in unguarded, jewel-toned images that bring the story warmth and intimacy. . . . Through a child's perspective, Dempsey and Green brightly convey how ordinary Americans became part of history." —Publishers Weekly

"A highly recommended purchase for any library, this book has a unique perspective on how every little piece works together to accomplish something great." —School Library Journal