The League of Extraordinarily Funny Women: 50 Trailblazers of Comedy (Hardcover)
COVID-19 Update
As we do every year, we will be CLOSED on Easter Sunday.
March 30: In his March 30 press briefing, Governor Northam continues to say that businesses like Prince Books may remain open to customers as long as we practice social distancing. We are currently processing many online, email and phone orders, and we continue to receive boxes from our wholesaler and publishers. You are welcome to request curbside delivery, or you may come into the store. We spray the counter and the doors throughout the day. Please continue to order from us! Thank you for your business.
For now, Prince Books intends to remain open. If you would like a book and don't want to come into the store, please call us with your book request and credit card number, (or place order at prince-books.com), tell us that you would like us to bring your purchase out to your car. Park on Martin's Lane next to the back door, and call us so we can run your purchase out to you.
In the meantime we'll be closing daily at 5 p.m. Thank you for your business!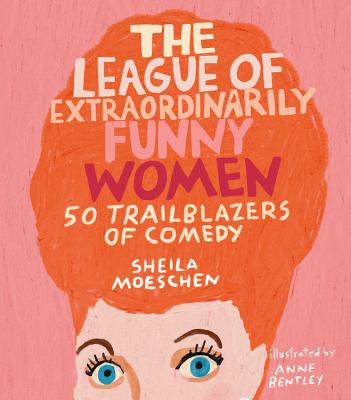 Description
---
A celebration of the most groundbreaking women in comedy who used humor to shake up the status quo and change perceptions of gender and comedy forever.

The League of Extraordinarily Funny Women celebrates the outstanding contributions of fifty women in comedy past and present. From legends like Lucille Ball, Joan Rivers, and Tina Fey to current comedy heroes like Issa Rae, Lena Waithe, Abbi Jacobson, and Tig Notaro, this beautifully illustrated book charts a rich lineage of women using humor to speak truth to power, tangle with sensitive subjects, challenge the status quo, and do anything but sit still and stay quiet when laughs are on the line.Some of these women broke boundaries as pioneers on stage as well as in front of and behind the camera. Others penned their way into the history of American humor, redrawing the boundaries of writers' rooms to include diverse voices and perspectives. Through their collective work as stand-ups, sketch and improv comics, humor writers, and slapstick film stars, these women formed a network forged by creativity, guts, and a deep love of what comedy can do and be. In the process, they continue to pass their knowledge and insights from woman to woman, from funny generation to funny generation, offering support, inspiration, and, above all, laughter.

About the Author
---
Sheila Moeschen, PhD, is a Boston-based gender and pop culture writer with a doctorate in gender and theater studies. She has played an active role behind the scenes at the Women in Comedy Festival since its launch in 2009. She is the author of Acts of Conspicuous Compassion: Performance Culture and American Charity Practices and her work has appeared on the Huffington Post, I AM THAT GIRL, RYOT, Red Line Roots, and Feminine Collective. Sheila has been a featured contributor on NPR and on Trailblazers with Walter Isaacson.
Praise For…
---
"A fun, delightful, and beautifully illustrated retrospective of America's funniest women."—Yael Kohen, author of We Killed: The Rise of Women in American Comedy

"This book celebrates that one of the great things about comedy is it can be done simply, cheaply, and by anyone. And if you consistently make people laugh -- there will be work for you."—Jackie Kashian, comedian and creator/host of The Dork Forest podcast

"I read every word of this seminal book. . . looking for my name. Seriously, I love The League. I got to know more about some of my idols and was introduced to new voices. Humor is a portal, and these brilliant women use it as a way out and a way in to change the world for the better."—Wendy Liebman, comedian

"This great book celebrates only a small portion of the thousands of hilarious women out there inspiring us all. A fantastic (if not delightfully passive aggressive) book for the person in your life who says, 'There aren't that many funny women.' I am ordering one for every comedy club owner I know."—Maria Bamford, comedian, Lady Dynamite