The Third Kingdom: Sword of Truth - A Richard and Kahlan Novel (Hardcover)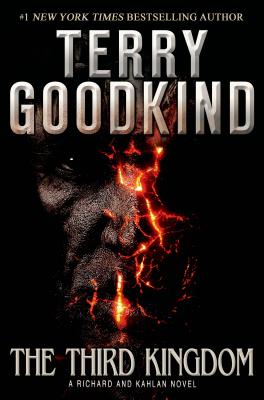 Other Books in Series
This is book number 2 in the Richard and Kahlan series.
Description
---
Terry Goodkind returns to the lives of Richard Rahl and Kahlan Amnell—in The Third Kingdom, the direct sequel to his #1 New York Times bestseller The Omen Machine.

Richard saw the point of a sword blade sticking out from between the man's shoulder blades. He spun back toward Richard after throwing the woman out the opening, ready to attack. It seemed impossible, but the man looked unaffected by the blade that had impaled him through the chest.

It was then, in the weak light from the fire pit off to the side, that Richard got his first good look at the killer.

Three knives were buried up to their brass cross-guards in the man's chest. Only the handles were showing. Richard saw, too, the broken end of a sword blade jutting out from the center of the man's chest. The point of that same blade stuck out from the man's back.

Richard recognized the knife handles. All three were the style carried by the men of the First File.

He looked from those blades that should have killed the big man, up into his face.
That was when he realized the true horror of the situation, and the reason for the unbearable stench of death.
About the Author
---
Terry Goodkind is a #1 New York Times bestselling author. His books include the eleven-volume Sword of Truth series, beginning with Wizard's First Rule, the basis for the television show Legend of the Seeker. Goodkind was born and raised in Omaha, Nebraska, where he also attended art school. Alongside a career in wildlife art, he has also been a cabinetmaker and a violin maker, and he has done restoration work on rare and exotic artifacts from around the world -- each with its own story to tell, he says. While continuing to maintain the northeastern home he built with his own hands, in recent years he and his wife Jeri have created a second home in the desert Southwest, where he now spends the majority of his time.
Praise For…
---
"Outstanding…Characters who actually behave like adults. Highly recommended." —San Diego Union-Tribune
"Goodkind's greatest triumph: the ability to introduce instantly identifiable characters. His heroes, like us, are not perfect. Instead, each is flawed in ways that strengthen, rather than weaken their impact." —SFX
"Few writers have Goodkind's power of creation." —Publishing News
"Teeming with violence, treachery, and intrigue." —Publishers Weekly
"Eminently readable." —Booklist
"A tour de force of mesmerizing storytelling." —RT Book Reviews