Hardtack and Coffee or, The Unwritten Story of Army Life (Paperback)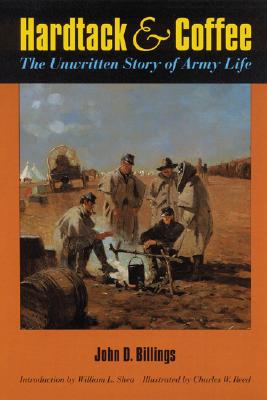 $19.95
Usually Ships in 1-5 Days
Description
---
Most histories of the Civil War focus on battles and top brass. Hardtack and Coffee is one of the few to give a vivid, detailed picture of what ordinary soldiers endured every day—in camp, on the march, at the edge of a booming, smoking hell. John D. Billings of Massachusetts enlisted in the Army of the Potomac and curvived the conditions he recorded. The authenticity of his book is heightened by the many drawings that a comrade, Charles W. Reed, made in the field.
This is the story of how the Civil War soldier was recruited, provisioned, and disciplined. Described here are the types of men found in any outfit; their not very uniform uniforms; crowded tents and makeshift shelters; difficulties in keeping clean, warm, and dry; their pleasure in a cup of coffee; food rations, dominated by salt pork and the versatile cracker or hardtack; their brave pastimes in the face of death; punishments for various offenses; treatment in sick bay; firearms and signals and modes of transportation. Comprehensive and anecdotal, Hardtack and Coffee is striking for the pulse of life that runs through it.
About the Author
---
Contributing an introduction and index to this Bison Books edition is William L. Shea, a professor of history at the University of Arkansas, Monticello. His books include The Virginia Militia in the Seventeenth Century and, with Earl Hess, Pea Ridge: Civil War Campaign in the West.