Muse (Paperback)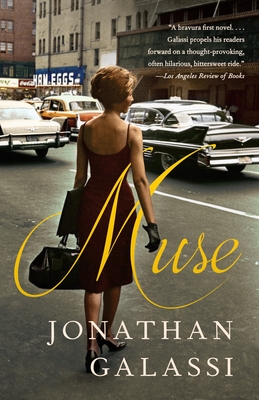 Description
---
In these pages, Jonathan Galassi—the longtime publisher of Farrar, Straus and Giroux—gives us an extraordinarily sensitive, satirically sharp novel set in the world of books that he knows so well. At the center is Paul Dukach, editor-in-chief and heir apparent at Purcell & Stern, one of New York's last great independent publishing houses. But despite all his success, Paul remains obsessed with the writer who got away: the poet Ida Perkins, whose outsize life and work have made her a celebrity—and who is published by Stern's biggest rival.
       When Paul at last meets Ida at her  Venetian palazzo, she entrusts him with her greatest secret—one that will change all  their lives. Filled with juicy details only a quintessential insider could know, Muse is a salty valentine to the people who write, sell, and, above all, read the books that shape our lives.
About the Author
---
Jonathan Galassi is the president and publisher of Farrar, Straus & Giroux and the author of three collections of poetry, as well as acclaimed translations of the Italian poets Eugenio Montale and Giacomo Leopardi. A former Guggenheim Fellow and poetry editor of The Paris Review, he also writes for The New York Review of Books and other publications.
Praise For…
---
"A bravura first novel. . . . Compelling. . . . Galassi propels his readers forward on a thought-provoking, often hilarious, bittersweet ride." —Los Angeles Review of Books

"Entertaining. . . . Muse is many things: a satire of New York's social world, a portrait of publishing that is both love song and takedown, and an intriguing mystery." —The New York Times Book Review

"A love letter to beautiful writing. . . . Galassi has a treasure trove of information which he supplies to readers in great, and gorgeous detail." —The Huffington Post

"Excellent. . . . A terrific novel. . . . A loving document of a bygone era and a crackling good story." —USA Today 

"A testament to the purity of the written word, and the turmoil that can be required to get it on paper." —The New Yorker

"Keenly observed. . . . Incisive. . . . Muse—much like John Updike's early Bech books—leaves insiders with a knowing portrait of the publishing world before the digital revolution, and gives outsiders a gently satirical look at the passions and follies of a vocation peopled by 'fanatics of the cult of the printed word.'" —The New York Times

"Make[s] poetry and publishing feel alive with complexity and drama and feeling. . . . How beautifully Galassi represents moments of literary triumph." —Commonweal 
     
"Charming. . . . It is one of the pleasures of Muse to watch Galassi mix his fictional literati with the real ones." —The New York Review of Books

"Packed with lively secrets and insider gossip from the world of literature." —Entertainment Weekly

"A long-awaited, and worthwhile, event. Galassi's main character is the heir to a prestigious publishing house who becomes the confidante of his favorite writer, a poet whose personal life is as famed as her writing." —Vanity Fair

"Beguiling . . . Galassi imbues his offbeat tale with emotional intensity and a lingering resonance." —Miami Herald

"An enjoyably incestuous tangle of life and art. . . . Preserve[s] the quirks and charms of a colorful era in literary culture." —The Boston Globe

"Accomplished. . . . Affecting. . . . Muse adds still another gold star to Galassi's literary report card." —The New York Journal of Books

"A fictional send-up of New York's publishing industry, by one of its real-life members. . . . While industry insiders will likely recognize the thinly veiled references to key players in publishing, outsiders will giggle at Galassi's accounts of aggressive agents, arrogant authors and barbaric book fairs." —New York Post

"A witty, elegant, tons-of-fun debut novel. Jonathan Galassi has got all the dirt on the publishing industry and he is ready to dish. But he also takes us from Union Square and a hideaway country cottage to Venice, for a love story all his own." —Gary Shteyngart