Intermediate Written Chinese Practice Essentials: Read and Write Mandarin Chinese as the Chinese Do (CD-ROM of Audio & Printable Pdfs for More Practic (Paperback)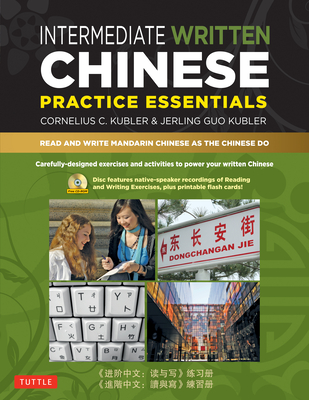 $16.99

Usually Ships in 2-6 Days
Description
---
Welcome to the world's most efficient method of learning Mandarin Chinese, whether you are striving to learn Chinese on your own or studying in a classroom setting.
Part of the widely-used and highly acclaimed Kubler series, The
Basic Chinese
and
Intermediate Chinese
books provide separate but integrated tracks to help you learn to read, write and speak Chinese efficiently, at your own pace. Some students and teachers wish to emphasize speaking ability first, whereas others want to focus on learning to read and write Chinese at the same time. These Chinese language study books allow you the flexibility to acquire the spoken language and the written language with the method that best fits your needs.
With the internationally-recognized Kubler system and accompanying CD-ROM, you will:
Learn to use 288 high-frequency Chinese characters, and over 700 popular words written with them
Find yourself quickly reading and writing sentences with the correct Chinese grammar
Be taught both simplified and traditional characters; you may choose to learn one or both
Recognize a variety of fonts in both typeset and handwritten styles, to prepare you to use Chinese in many different contexts-from reading signs and newspapers, to computers and mobile phone texts
Listen to hours of native-speaker recordings on the enclosed CD-ROM, and have access to practice sheets and printable flashcards
Intermediate Written Chinese Practice Essentials
stands out among Chinese books and textbooks for its dynamic study system and practical exercises, which will assist you in learning Chinese quickly and comfortably.
All disc content is alternatively accessible on tuttlepublishing.com/downloadable-content.
About the Author
---
Cornelius C. Kubler, Stanfield Professor of Asian Studies at Williams College, received his B.A., M.A., and Ph.D. degrees in linguistics from Cornell University. He earned a second M.A. in Chinese literature from National Taiwan University. From 1980-1991 he was employed at the Foreign Service Institute, U.S. Department of State, where he served as Language Training Supervisor in Mandarin, Cantonese, Japanese, and Mongolian; as Principal of the advanced Chinese field school in Taiwan; and as Chair of the Department of Asian and African Languages. Since joining Williams College in 1991, he has chaired the former Department of Chinese and Asian Studies Program as well as the Department of Asian Studies, which he was instrumental in founding. He has also served as visiting professor at Eisenhower College, Portland State University, Middlebury College, National Taiwan Normal University, Chinese University of Hong Kong, and Wenzao Ursuline University of Languages. Kubler, who is author or coauthor of 20 books and over 50 articles on Chinese language pedagogy and linguistics, frequently serves as reviewer or consultant for Chinese and Asian Studies programs in the U.S. and overseas. He has served as Chair of the Test Development Committee for the SAT Subject Test in Chinese and as member of the Executive Committee of the Association of Departments of Foreign Languages of the Modern Language Association. He is currently serving as American Co-Director of The Johns Hopkins University-Nanjing University Center for Chinese and American Studies in Nanjing, China. Jerling Guo Kubler is a graduate of the Department of Foreign Languages and Literatures of Soochow University, Taipei. Her experience in language education spans more than 35 years. She has taught all levels of Chinese as a Second/Foreign Language from pre-kindergarten to university level at institutions including Williams College, Eisenhower College and Taipei Language Institute.