The Treasure of the Sierra Madre: A Novel (Paperback)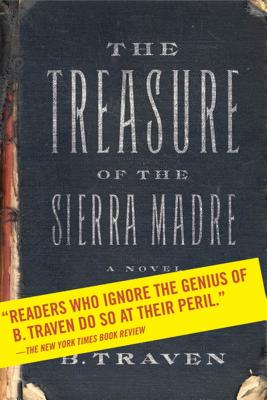 $17.00
Email or call for price.
Description
---
A CULT MASTERPIECE—THE ADVENTURE NOVEL THAT INSPIRED JOHN HUSTON'S CLASSIC FILM, BY THE ELUSIVE AUTHOR WHO WAS A MODEL FOR THE HERO OF ROBERTO BOLAÑO'S 2666

Little is known for certain about B. Traven. Evidence suggests that he was born Otto Feige in Schlewsig-Holstein and that he escaped a death sentence for his involvement with the anarchist underground in Bavaria. Traven spent most of his adult life in Mexico, where, under various names, he wrote several bestsellers and was an outspoken defender of the rights of Mexico's indigenous people. First published in 1935, The Treasure of the Sierra Madre is Traven's most famous and enduring work, the dark, savagely ironic, and riveting story of three down-and-out Americans hunting for gold in Sonora.
About the Author
---
B. Traven (1882–1969) was a pen name of one of the most enigmatic writers of the twentieth century. The life and work of the author, whose other aliases include Hal Croves, Traven Torsvan, and Ret Marut, has been called "the greatest literary mystery of the twentieth century." Of German descent and Mexican nationality, he has sold more than thirty million books, in more than thirty languages. Films of his work include The Treasure of the Sierra Madre, which won three Oscars; Macario, the first Mexican film to be nominated for an Oscar; and The Death Ship, a cult classic in Germany.
Praise For…
---
"Traven's philosophical anarchism, his disengagement, his scorn for regimentation and material goods and his love of individual liberty and the primitive past could, conceivably, command as much reverence form the new generation as does Henry David Thoreau." —William Weber Johnson, Los Angeles Times

"He tells his story better than the best storytellers; delves deeper into characters than most so-called psychological writers. All the virility, terseness and tension that Hemingway worked so hard for...seem to be Traven's by birthright." —John Anthony West, Books and Bookmen