Virginia Climate Fever: How Global Warming Will Transform Our Cities, Shorelines, and Forests (Paperback)
COVID-19 Update
For now, Prince Books intends to remain open. If you would like a book and don't want to come into the store, please call us with your book request and credit card number, (or place order at prince-books.com), tell us that you would like us to bring your purchase out to your car. Park on Martin's Lane next to the back door, and call us so we can run your purchase out to you.
In the meantime we'll be closing daily at 5 p.m. Thank you for your business!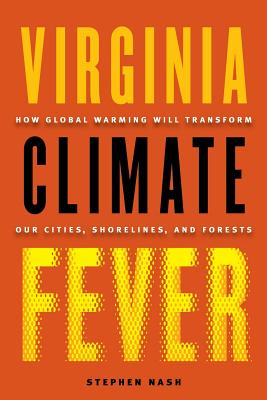 Description
---
Climate disruption is often discussed on a global scale, affording many a degree of detachment from what is happening in their own backyards. Yet the consequences of global warming are of an increasingly acute and serious nature.
In Virginia Climate Fever, environmental journalist Stephen Nash brings home the threat of climate change to the state of Virginia. Weaving together a compelling mix of data and conversations with both respected scientists and Virginians most immediately at risk from global warming's effects, the author details how Virginia's climate has already begun to change. In engaging prose and layman's terms, Nash argues that alteration in the environment will affect not only the state's cities but also hundreds of square miles of urban and natural coastal areas, the 60 percent of the state that is forested, the Chesapeake Bay, and the near Atlantic, with accompanying threats such as the potential spread of infectious disease. The narrative offers striking descriptions of the vulnerabilities of the state's many beautiful natural areas, around which much of its tourism industry is built.
While remaining respectful of the controversy around global warming, Nash allows the research to speak for itself. In doing so, he offers a practical approach to and urgent warning about the impending impact of climate change in Virginia.
About the Author
---
Stephen Nash has reported on science and the environment for publications including the New York Times, the Washington Post, BioScience magazine, the Scientist, the New Republic, and Archaeology. He is Visiting Senior Research Scholar at the University of Richmond, where he has taught in the journalism and environmental studies programs since 1980. He is the author of Blue Ridge 2020: An Owner's Manual and Millipedes and Moon Tigers: Science and Policy in an Age of Extinction (Virginia).