Perimeter: A Contemporary Portrait of Lake Michigan (Hardcover)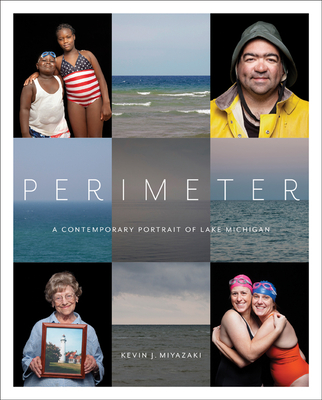 Description
---
Commissioned by the Haggerty Museum of Art at Marquette University to create an artwork reflecting on the importance of freshwater, Milwaukee-based photographer Kevin J. Miyazaki embarked on a two-week, 1,800-mile drive around Lake Michigan. He traveled its perimeter, through Wisconsin, Illinois, Indiana, and Michigan, to produce what he calls "a contemporary portrait of Lake Michigan." Miyazaki set up his portable studio on beaches, in parks, on boat docks, and in backyards, photographing those he met along the way. From residents, environmental scientists, and artists to a Native American water rights advocate, surfers, and commercial fishermen, Lake Michigan holds a powerful place in the life of each. Many shared their thoughts with him on why this body of water is important to all.
 
Miyazaki also photographed the water as he went, creating waterscapes of the ever-changing lake affected by weather and time. Perimeter gathers these images together, creating a diverse portrait of both people and a place, encapsulating Lake Michigan's significance to those who are drawn to it.

About the Author
---
Kevin J. Miyazaki is a Milwaukee-based editorial and fine art photographer. His work has appeared in such publications as Martha Stewart Living, Travel + Leisure, Midwest Living, and The New York Times Magazine. His series Camp Home, in which he documents the reuse of Japanese internment camp barracks from World War II, has been exhibited at the Photo Center NW and SOIL Gallery in Seattle, the RayKo Photo Center in San Francisco, the University of Wisconsin–Milwaukee, the Madison Museum of Contemporary Art, and the James Watrous Gallery in Madison. Miyazaki's work can be seen at www.kevinmiyazaki.com.

 
Praise For…
---
Perimeter is "a wonderfully perceptive interrogation of landscape, portraiture, cartography, and place."
(Mary Louise Schumacher, art and architecture critic, Milwaukee Journal Sentinel)

This book has few words, but much reading.  We read the faces and outfits, tools and toys but mostly we read the Lake: The Lake that is beautiful and powerful, living and life giving.  "Perimeter" is a book to peruse and ponder.  Keep it where you can find it when you need something to lift your spirits.  Don't be selfish.  Leave it where your guests can find it and share this treasure. (Jim Gallen, Reviewer)


Miyazaki's Perimeter is as brilliant for its images as for its concept...The photos recall Richard Avedon's exhibit In The American West, but without the grit and grimace. Miyazaki finds his subjects in warmer moods, even if some appear to be shivering after bounding out of the chilly, glistening waters. (Marc Tasman, Insider Reviews, Milwaukee Magazine)