Sex: An Open Approach to Our Unspoken Desires. (Hardcover)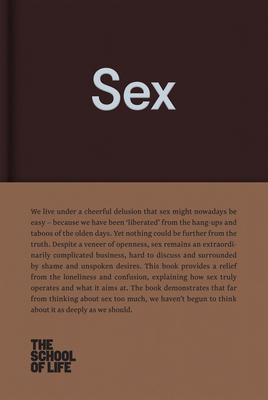 $19.99

Usually Ships in 2-6 Days
Description
---
An open approach to our unspoken desires.
Shame means that many couples still find it difficult to be honest with one another about who they are and what they need to feel sexually satisfied.
We shouldn't suppose that we can always and invariably share our every sexual proclivity with others, but there's a lot we could feel more confident about expressing. Things that seem strange can turn out to be quite understandable when we consider them rationally; there's an important role for philosophical analysis in stretching the understanding we have of our own desires.
Sex explores a range of sexual enthusiasms in order to help us acknowledge hitherto forbidden aspects of ourselves and to communicate them in unpanicked, undefensive ways to our partners. Its goal is to help us to be maturely unfrightened of our own sexuality; to reduce unnecessary shame; and to increase opportunities for moments of courageous and relationship-enhancing honesty.
About the Author
---
The School of Life is a global organization helping people lead more fulfilled lives. Through our range of books, gifts and stationery we aim to prompt more thoughtful natures and help everyone to find fulfillment. The School of Life is a resource for exploring self-knowledge, relationships, work, socializing, finding calm, and enjoying culture through content, community, and conversation. You can find us online, in stores and in welcoming spaces around the world offering classes, events, and one-to-one therapy sessions. The School of Life is a rapidly growing global brand, with over 6 million YouTube subscribers, 351,000 Facebook followers, 218,000 Instagram followers and 163,000 Twitter followers. The School of Life Press brings together the thinking and ideas of the School of Life creative team under the direction of series editor, Alain de Botton. Their books share a coherent, curated message that speaks with one voice: calm, reassuring, and sane.