The Weird Accordion to Al: Every "Weird Al" Yankovic Album Analyzed in Obsessive Detail by the Co-Author of Weird Al: The Book (with Al Yankovic) (Paperback)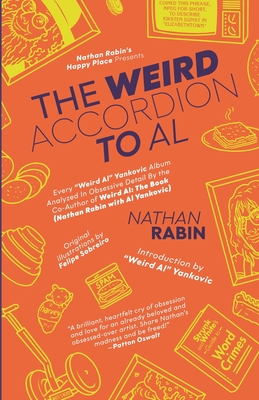 $27.00

Usually Ships in 2-6 Days
Description
---
Eight years ago veteran pop culture writer Nathan Rabin, the original head writer for pop culture juggernaut the A.V Club and the man who coined the phrase "Manic Pixie Dream Girl" got a direct message on Twitter that changed his life. His childhood hero, "Weird Al" Yankovic, had hand-picked him to write a coffee table book about his life and career that would ultimately become 2012's Weird Al: The Book from Abrams Image.
One book about Al just wasn't enough, however, so in 2017 Rabin began an exhaustive project called The Weird Accordion to Al on his website Nathan Rabin's Happy Place that analyzed all of Al's sixteen albums (fourteen studio albums, the compilation Medium Rarities and a collaborative album with the legendary Wendy Carlos) in obsessive detail.
Now The Weird Accordion to Al is available in book form with 52 hilarious, original and oddly beautiful illustrations from Felipe Sobreiro, who works extensively for Marvel AND an introduction (and copy-editing and fact-checking) from Al himself. That's right: THE "Weird Al" Yankovic ensured that everything in the book is grammatically as well as historically correct.
The Weird Accordion to Al is the ultimate tribute to an American original as well as the perfect companion piece to both Weird Al: The Book and Rabin's 2013 cult memoir You Don't Know Me But You Don't Like Me, which similarly explored the powerful spiritual connection between an artist and their fans and the transcendence of live music, this time through the seemingly antithetical but surprisingly simpatico fanbases of jam band Phish and horrorcore duo Insane Clown Posse.
"A brilliant, heartfelt cry of obsession and love for an already beloved and obsessed-over artist. Share Nathan's madness and be freed "--Patton Oswalt
"This book is pop culture history, music dissertation, and comedic theory. Nathan has exemplified the qualities that make Weird Al an artist who is equal parts Frank Zappa, Mel Brooks, and Mark Twain."--Jonah Ray
"You don't have to be a fan of Weird Al to enjoy Rabin's raucous deep-dive into the complete discography. But if you're not a Weird Al fan there's clearly something wrong with you"--Alex Winter
"The Weird Accordion to Al is the definitive companion to the "Weird Al" catalogue. It's chock full of fascinating insights that left my head spinning like a Frankie Yankovic record (no relation). Nobody covers the Al canon in better depth than Nathan Rabin. It's a must-read for the weirdos in your life. I learned so much from this VERY SPECIFIC book."--Thomas Lennon
"There is no keener observer of pop culture than Nathan Rabin. His wit, unassuming charm and amazing talent for empathy make him one of the most pleasurable authors to read in a field that far too often devolves into navel-gazing self reference. I will never die, but if I do, I hope Nathan Rabin writes the book about me."--Justin McElroy
"Wonderfully captures the quirks and fun details that have made the Yank-oeuvre ooze with oddness for almost four decades. Nathan really shows you what makes Al's mind tick. Spoiler: It's the neurons. A must read for anyone unemployed, childless, or with ninety spare hours to kill."--Scott Aukerman