Everything, Everything (Compact Disc)
Holiday Hours and New Hours in 2022
Thank you for your support this year!
Beginning Jan. 3 Prince Books will open one hour later at 10 am Mon-Sat. and 11 am Sunday.
January 10, 2022: WE ARE HIRING. PLEASE SEE JOB DESCRIPTION BELOW AND CLICK pdf AT THE BOTTOM FOR EMPLOYMENT APPLICATION
Application must be filled out by hand and returned to the bookstore in person.
EMPLOYMENT APPLICATION BELOW:
High school degree mandatory; at least some college preferred.
This job is people oriented but also extremely detail oriented! We process a lot of special and online orders and have thousands of inventory records. Strict adherence to our process is important to keep the store operating smoothly.
Responsibilities include, but are not limited to:
Ensuring that all customers, whether in store, over the phone or online have a positive shopping experience
Operating our cash registers efficiently and accurately
Creating and maintaining displays; shelving books and maintaining good section organization
Receiving and returning shipments; maintaining an accurate physical inventory
Processing online orders for store pickup, curbside pickup, and shipping
Standing/walking is constantly required
Lifting of books and boxes is constantly required
Basic store maintenance including taking out trash and boxes, washing door windows, and dusting
Must be comfortable learning and working with a variety of software, including point of sale/inventory control system, ecommerce and shipping programs
Must be able to work in a team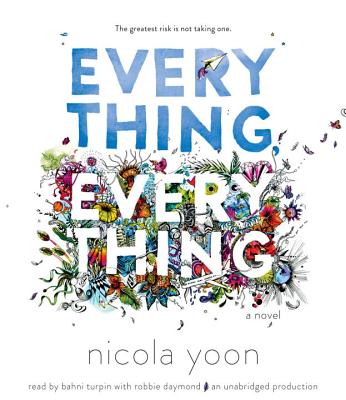 $40.00
Email or call for price.
Description
---
The instant #1 New York Times bestseller--now a major motion picture starring Amandla Stenberg as Maddy and Nick Robinson as Olly.

Risk everything . . . for love. What if you couldn't touch anything in the outside world? Never breathe in the fresh air, feel the sun warm your face . . . or kiss the boy next door? In Everything, Everything, Maddy is a girl who's literally allergic to the outside world, and Olly is the boy who moves in next door . . . and becomes the greatest risk she's ever taken.

My disease is as rare as it is famous. Basically, I'm allergic to the world. I don't leave my house, have not left my house in seventeen years. The only people I ever see are my mom and my nurse, Carla. But then one day, a moving truck arrives next door. I look out my window, and I see him. He's tall, lean and wearing all black--black T-shirt, black jeans, black sneakers, and a black knit cap that covers his hair completely. He catches me looking and stares at me. I stare right back. His name is Olly. Maybe we can't predict the future, but we can predict some things. For example, I am certainly going to fall in love with Olly. It's almost certainly going to be a disaster. Everything, Everything will make you laugh, cry, and feel everything in between. It's an innovative, inspiring, and heartbreakingly romantic debut novel that unfolds via vignettes, diary entries, illustrations, and more.

everythingeverythingfilm on Instagram
@everythingfilm on Twitter
@everythingeverythingmovie on Facebook
everythingeverythingmovie.com And don't miss Nicola Yoon's The Sun Is Also A Star, the #1 New York Times bestseller in which two teens are brought together just when it seems like the universe is sending them in opposite directions.
About the Author
---
NICOLA YOON is the #1 New York Times bestselling author of Everything, Everything and The Sun is Also a Star, a Michael L. Printz Honor book and a National Book Award finalist. She grew up in Jamaica and Brooklyn and lives in Los Angeles with her husband, who created the artwork in these pages, and daughter, both of whom she loves beyond all reason. Everything, Everything is her first novel, and the major motion picture based on the book will be available to own this August (digital movie 8/1 and Blu-ray(TM) 8/15). Follow Nicola Yoon on Instagram and Tumblr and @NicolaYoon on Twitter.