Where Monsters Dwell (Hardcover)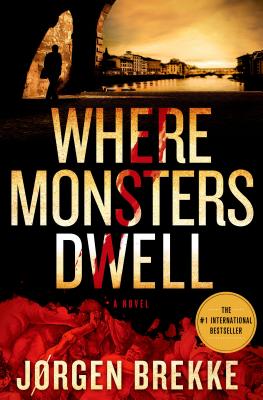 Description
---
A murder at the Edgar Allan Poe Museum in Richmond, Virginia, bears a close resemblance to one in Trondheim, Norway. The corpse of the museum curator in Virginia is found flayed in his office by the cleaning staff; the corpse of an archivist at the library in Norway, is found inside a locked vault used to store delicate and rare books. Richmond homicide detective Felicia Stone and Trondheim police inspector Odd Singsaker find themselves working on similar murder cases, committed the same way, but half a world away. And both murders are somehow connected to a sixteenth century palimpsest book The Book of John which appears to be a journal of a serial murderer back in 1529 Norway, a book bound in human skin.
A runaway bestseller in Norway, Jorgen Brekke's "Where Monsters Dwell" has since sold to over fourteen countries. "Where Monsters Dwell" is the most awaited English language crime fiction debut in years.
About the Author
---
JORGEN BREKKE was born in Horten, Norway. After completing his studies at the Norwegian University of Science and Technology, he settled in Trondheim, where he currently lives with his wife and three children. Brekke taught education for some years, but recently has worked as a freelance journalist. His debut novel, Where Monsters Dwell has been sold to fifteen countries.
Praise For…
---
"An addictive, suspenseful present-day crime thriller peppered with expertly-researched historic chapters--is it any wonder I loved this book?" —Raymond Khoury, New York Times bestselling author of The Last Templar

"History pulses with life and excitement in this chilling and foreboding read. Jorgen Brekke delivers what thriller readers crave, or at least what this thriller reader craves—action, history, secrets, conspiracies, and international settings. Couldn't ask for anything more." —Steve Berry, New York Times bestselling author of The King's Deception

"Engrossing… this mystery is perfectly grim without being bleak and is a welcome addition to the popular 'Nordic noir' subgenre" —Library Journal 

"The buildup to each murder is extraordinarily well done and almost unbearably suspenseful." —Booklist
"With depth of characterization...a narrative pace that's fast but never rushed—and a shattering climax—Brekke creates a novel of startling originality, one that makes some other thrillers look like products of a cookie cutter. Discerning readers will find it spellbinding...Quoth the critic, give us more." —Richmond Times-Dispatch

"Brekke's big-boned debut thriller, spanning two continents and 500 years, delves into the unholy connections between a pair of monstrous killings in Norway and the U.S…. While the two sorely tried cops toil on unaware of the big break that will bring Felicia to Trondheim, Brekke provides increasingly disturbing flashbacks to the creation of the Johannes Book, a 16th-century collection of aphorisms and medical information bound in human skin, which figures in both murders. The sleuths are sympathetic and the atmosphere suitably sinister...Grim and tense." —Kirkus

"The next Stieg Larsson? Norway's Jorgen Brekke should be in the running, with his original and suspenseful debut novel Where Monsters Dwell… A killer debut, in every sense of the word, and a book you will want to read in one sitting, preferably not right before bedtime." —Bookpage

"It is almost unbelievable that this is Brekke's debut novel. The story moves seamlessly between 16th-century Europe and present-day Virginia and Norway, and the mystery is intricate… as it moves through time and place. Brekke's characters are developed with depth, making readers feel both empathy and sympathy toward them." —RT Book Reviews (4.5/5 stars)