The Hidden White House: Harry Truman and the Reconstruction of America's Most Famous Residence (Paperback)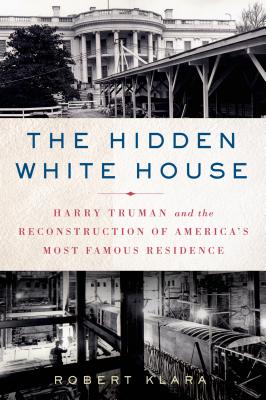 $21.99

Usually Ships in 2-6 Days
Description
---
Critically acclaimed author Robert Klara's The Hidden White House leads readers through an unmatched tale of political ambition and technical skill: the Truman administration's controversial rebuilding of the White House.

In 1948, President Harry Truman, enjoying a bath on the White House's second floor, almost plunged through the ceiling of the Blue Room into a tea party for the Daughters of the American Revolution. A handpicked team of the country's top architects conducted a secret inspection of the troubled mansion and, after discovering it was in imminent danger of collapse, insisted that the First Family be evicted immediately. What followed would be the most historically significant and politically complex home-improvement job in American history. While the Trumans camped across the street at Blair House, Congress debated whether to bulldoze the White House completely, and the Soviets exploded their first atomic bomb, starting the Cold War.


Indefatigable researcher Robert Klara reveals what has, until now, been little understood about this episode: America's most famous historic home was basically demolished, giving birth to today's White House. Leaving only the mansion's facade untouched, workmen gutted everything within, replacing it with a steel frame and a complex labyrinth deep below ground that soon came to include a top-secret nuclear fallout shelter.

The story of Truman's rebuilding of the White House is a snapshot of postwar America and its first Cold War leader, undertaking a job that changed the centerpiece of the country's national heritage. The job was by no means perfect, but it was remarkable—and, until now, all but forgotten.
About the Author
---
ROBERT KLARA is the author of the critically acclaimed FDR's Funeral Train and The Hidden White House. His unveiling of the private world of the famous funeral train was hailed as "a major new contribution to U.S. history" by Douglas Brinkley. His second book, a dramatic account of Truman's fight to save the White House, was called "popular history at its best" (The Christian Science Monitor). His writing has appeared in The New York Times, among other publications.
Praise For…
---
"Robert Klara's The Hidden White House will give you unique insight into the building our presidents live and work in. A tour de force narrative, this detailed history will give you a one-of-a-kind look into America's most famous house." —Newt Gingrich, New York Times bestselling author of Victory at Yorktown

"Robert Klara brings the White House--its occupants, its rooms, even its swinging chandeliers--vividly to life in this gripping work of history. The book is rich with historical and architectural detail, and Klara, a brilliant storyteller, shows us why Truman's plan to restore the White House was an act not only of necessity, but of audacity." —Jeff Shesol, former speechwriter to President Bill Clinton and author of Supreme Power: Franklin Roosevelt vs. the Supreme Court

"Robert Klara has crafted an unexpected and captivating story of the overhaul of America's most famous residence. While every first family lends its own personal touch to the White House, it is usually in the form of china patterns and drapes. President Truman, on the other hand, had the place gutted—because it was threatening to collapse around him. From bathtubs to bomb shelters, Klara leaves no piece of crumbling sandstone unturned and is as astute a storyteller as he is a dogged researcher. His efforts have resulted in a rich and layered look at this unique episode in American history. Hidden White House is populated by complicated and quirky characters but Klara wisely saves the spotlight for the real star, The White House herself, as she narrowly escapes annihilation. We can be thankful she survived, imperfections and all, and that Klara has brought her story to light." —Denise Kiernan, New York Times bestselling author of Girls of Atomic City

"Money troubles, war with congress, fights with patriotic societies, an attempted assassination of the President, the building of an atom bomb shelter, lost contents – the saga of the gutting and recreation of the "Great White Jail" that is the nation's White House is as dramatic as was Truman's presidency. In Robert Klara's riveting yet scholarly account it becomes no less than the story of America, as the U.S. becomes the world's foremost superpower – with the reconstructed White House its symbolic and literal heart." —Nigel Hamilton, author, American Caesars: Lives of the Presidents, From Franklin D. Roosevelt to George W. Bush

"A delightful and informative narrative… Klara brings the reconstruction's major players—including Truman and his family, architect Lorenzo Winslow, and contractor John McShain—to life in sharp prose, infusing this cracks-and-crevices expose with plenty of entertaining drama." —Publishers Weekly

"Robert Klara has proven the old adage to be true -- if walls could speak what stories they would tell! Ghosts. Diplomats. Washington backscratching. The Hidden White House has it all in a fabulous romp across the landscape of American history as viewed through the prism of our most iconic residence. Hats off to Klara! A beautifully written book filled with quirky characters and amazing stories." —L. Douglas Keeney, author of 15 Minutes: General Curtis LeMay and the Countdown to Nuclear Annihilation

"There's a story that when Ronald Reagan first arrived at the White House, he asked to see the 'War Room,' presuming it looked just like the screen version from Dr. Strangelove. Which is to say, we all have our fantasies about the hidden life behind the stately white columns of America's most famous home--most of them false. Robert Klara's entertaining secret history of White House tells how it became the place we think we know but don't, proving the adage that truth can be stranger than fiction." —Mark Lamster, architecture critic, Dallas Morning News

"Robert Klara's The Hidden White House serves as a landmark study of the post-World War II redefinition of America's premier residence. Thoroughly researched and engagingly written, this book casts deserved new attention on a favorite subject, highlighting the masterful walking of the fine line between preserving an historic shrine and fabricating a modern fortress and television-ready backdrop. Whether historian, architect, or homeowner (fresh from the throes of your own renovation), The Hidden White House affords an entertaining history lesson." —James Archer Abbott, director and curator, Johns Hopkins University's Evergreen Museum and Library; author of Designing Camelot: The Kennedy White House Restoration

"Gossipy… Characters, famous and relatively obscure, flit in and out of the narrative, creating frequently humorous situations…. Enjoyable." —Booklist

"Klara's focused history will intrigue architectural history enthusiasts along with presidential history buffs and others who will appreciate a part of White House history that has been forgotten by many." —Library Journal

"In the manner of Bob Greene's Once Upon a Town or Jody Rosen's White Christmas . . . Klara charms as he informs. A little gem." —Kirkus Reviews (starred) on FDR's Funeral Train

"Klara has put together a thrilling piece of history. . . . [he] has managed to provide a fresh look at history as well as the political landscape of the twenty–first century." —The Daily Beast on FDR's Funeral Train

"Full of fascinating anecdotes. . . . This is popular history at its best: engaging, informative and insightful. It is very well written and . . . a pure pleasure to read . . . sheds welcome light on a fascinating and largely forgotten episode." —Christian Science Monitor on FDR's Funeral Train