The Last Pilot: A Novel (Paperback)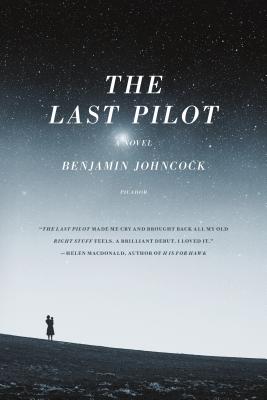 Description
---
Winner of the Author's Club Best First Novel Award
A Finalist for the East Anglian Book Award for Fiction
One of The Guardian's Favorite Reads of the Year (Chosen by Jenny Rohn)

"The Last Pilot made me cry and brought back all my old Right Stuff feels. A brilliant debut. I loved it."—Helen Macdonald, author of H is for Hawk
Jim Harrison is a test pilot in the United States Air Force, one of the exalted few. He spends his days cheating death in the skies above the Mojave Desert and his nights at his friend Pancho's bar, often with his wife, Grace. She and Harrison are secretly desperate for a child, and when, unexpectedly, Grace learns that she is pregnant, the two are overjoyed. America becomes swept up in the fervor of the Space Race, while Harrison turns his attention home to welcome his daughter, Florence, into the world. But as he and Grace confront thrills and challenges of parenthood, they are met with sudden tragedy.
The aftermath will haunt the Harrisons and strain their marriage, as Jim struggles to make life-and-death decisions under circumstances that are altogether new. Set against the backdrop of one of the most emotionally charged periods in American history, The Last Pilot by Benjamin Johncock is the mesmerizing story of a couple's crisis of faith—in themselves, and in each another—and the limits they test to rediscover it.
About the Author
---
BENJAMIN JOHNCOCK was born in England in 1978. His short stories have been published by The Fiction Desk and The Junket. He is the recipient of an Arts Council England grant and the American Literary Merit Award, and is a winner of Comma Press's National Short Story Day competition. He also writes for the Guardian. He lives in Norwich, England, with his wife, his daughter, and his son. The Last Pilot is his first novel.
Praise For…
---
"Although he's a young writer in England, Johncock re-creates the early days of the U.S. space program like someone who lived through them....Flying through these pages, you'll recall that dynamic era when a mix of physical science and political anxiety propelled the United States to unprecedented speeds....But if these guys have the right stuff, they also have personal lives that burn as dangerously, and that tension makes The Last Pilot hypnotic....The effect is supercharged Hemingway at 70,000 feet." —Ron Charles, The Washington Post
"[The Last Pilot] transports readers to a time of Scotch-soaked bars, Walter Cronkite on the news, and astronauts as superheroes...Ingeniously plotted, deftly written, and engrossing." —People, Best New Books
"A remarkable achievement... [Readers] will surely find comfort in these pages, lit by the fire of 1960s adventure, and also by the blazing beauty of a new literary star." —The Boston Globe
"[A] spare gem of a novel...Johncock is superb at crafting suspenseful scenes. The pioneering astronaut days, and Cold War moments like the Cuban missile crisis, offer a suitable backdrop for his dramatic tale." —Jane Ciabattari, BBC.com (Ten Books to Read in July)
"Johncock writes spare sentences, each diamond-like, free of any cloudiness caused by extra words. The prose is beautiful...It takes a confident writer to cover material that Tom Wolfe defined as his own in The Right Stuff. Benjamin Johncock proves that he has the chops to put his own spin on the matter in The Last Pilot." —Salon
"The story is well paced and chock full of an array of inspirational characters, but the London-based writer's greatest attribute is the exuberant life beaming from the gorgeous prose....The seemingly simplistic exchanges, that reveal plenty with few words, are reminiscent of the great Cormac McCarthy...Benjamin Johncock has written one of the most American novels of the year." —The Huffington Post
"Debut novelist Benjamin Johncock evokes the years of America's ramp-up to the space program so skillfully, a reader can almost feel the sandblasted landing strips...He's earned his 'right stuff' merit badge." —Jim Higgins, Milwaukee Journal Sentinel
"Reading Johncock one is reminded of Hemingway, Cormac McCarthy, and especially of James Salter's The Hunters.... his mastery of the American idiom is perfect. This is a first-rate novel by a major new talent." —The Spectator (UK)
"A test pilot pushing the sound barrier. A husband consoling his childless wife. An astronaut training for the impossible...In Benjamin Johncock's debut novel, protagonist Jim Harrison is all of those men. Spanning the aftermath of World War II to the '60s, The Last Pilot offers a heart-wrenching tale of loss and discovery during the infamous Space Race." —Paste Magazine, Best New Book of the Month
"With great skill (and some nerve), Benjamin Johncock has inserted his fiction into the true history of the Mercury and Gemini space programs of the 50s and 6os....and it's almost impossible to see the join." —The Guardian (London)
"The Last Pilot may be Benjamin Johncock's first book, but it reads like he's a seasoned pro, with descriptions and dialogue so rich that it's impossible not to get invested in the book's characters...You may cry, but this story is worth every tear." —Metro
"His descriptive writing has a clean grace that recalls Cormac McCarthy...Benjamin Johncock's story and characters take flight: this is a very promising debut." —Erica Wagner, New Statesman
"Whether or not you're a space exploration enthusiast, you'll likely find much to admire in Benjamin Johncock's debut novel, The Last Pilot. It's one of those terrific reads that deliver a compelling story against an interesting historical backdrop, in this case, the Space Race and the origins of the American space program…Congratulations to Mr. Johncock on having crafted a stellar debut that very much deserves a wide audience." —Pittsburgh Post-Gazette
"[A] marvellous book...Johncock seamlessly blends history and fiction, science and intimacy." —The Sunday Express (UK)
"A taut domestic drama whose stringent prose evokes the emotional and physical landscape of a time and a place, this is a remarkably accomplished debut." —The Daily Mail, Mail on Sunday
"Written in sparse, quick prose that balances sadness and action, The Last Pilot is a stunning debut that is as engrossing and profound as it is entertaining." —Jarret Middleton, Shelf Awareness
"[An] impressive debut...Jim's story is fascinating, and the author writes with a strong ear for dialogue, which rattles the pages with intensity. A marvelous, emotionally powerful novel." —Publishers Weekly, starred + boxed review
"While realistically describing the struggles Harrison faces in finding the courage to transcend a personal tragedy in the service of his country, Johncock also draws on true-life historical details to tell, in beautifully measured prose, a riveting good yarn." —Booklist
"A quick read with punchy, spare dialogue that makes the action pop. Johncock strikes just the right balance, marrying facts and real life people with fictitious characters...A contemplative book that will spark many a conversation." —The Missourian
"[Johncock's] narrative sucks the reader in...A powerful story of courage and redemption." —Edge Media Network
"This first novel is engaging and believable, and it's compelling to revisit the events of the space program." —Library Journal
"The dialogue is clean and smooth, and Johncock's spare prose gallops along at a fair pace." —Herald Scotland
"An ideal read for history buffs and Space Race enthusiasts." —Kirkus Reviews
"I read The Last Pilot in a single sitting, drawn into this story of a couple's journey through love and grief as it unfolds during the tense early days of the Space Race. Told in language as beautifully spare-and unsparing-as a desert or a moonscape, The Last Pilot reminds us in powerful ways that the real unknown frontier still lies within the mysteries of the human heart." —Kim Edwards, No. 1 New York Times bestselling author of The Lake of Dreams and The Memory Keeper's Daughter
"This is by far the best debut novel I've read in years. You can read about the plot elsewhere, but for me, the beauty of this novel is in the balance of the dialogue; the sustained emotion that runs through the whole; the haiku-like simplicity of the prose (and trust me, it takes a long, long time to create that sense of effortlessness). Like so many of America's stories, this is a Western in disguise; a quiet, limpid Western, where the action mostly takes place in the air and in the chambers of the heart. To me, it reads like the reclusive disciple of Cormac McCarthy and de Saint-Exupéry." —Joanne Harris, New York Times bestselling author
"Benjamin Johncock is a writer of great craft and integrity. His dialogue is desert-dry, and his sentences crackle with the energy of things unsaid. With The Last Pilot, he has done something remarkable: In a novel about the achievements of the Space Race, he has shown us that true heroism lies in doing the right thing behind the closed doors of home. Wonderful stuff." —Jon McGregor, author of If Nobody Speaks of Remarkable Things
"A confident, engrossing debut novel with great warmth and a real sense of time and place." —A.L. Kennedy, author of The Blue Book and All the Rage
"Carver is the obvious influence, but this is no mere imitation. The writing is machine-cut and spare, understated and taciturn, and like the pilots at this story's center, Johncock has dared to reach for the stars." —D.W. Wilson, author of Ballistics and Once You Break a Knuckle