Diamonds and Pearl (A Diamonds Novel #1) (Paperback)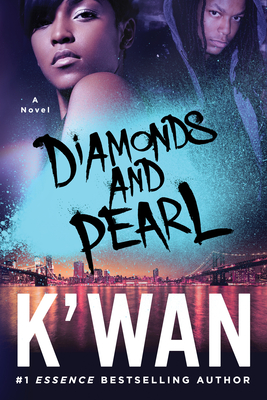 Description
---
From # 1 Essence best-selling Crime Novelist K'Wan comes a tale of forbidden love, high stakes murder and the robbery gone bad that set it all in motion, Diamonds and Pearl.

They say that good girls like bad boys, and this was especially true for Pearl Stone. A child born of privilege to a drug baron and reputed killer known in the streets as Big Stone. Although the flashy, fast-paced nature of the streets calls to Pearl, she's been brought up to look but not touch. But when a young hustler named Diamonds crawls up from the swamps of Louisiana and sets up shop in New York City, everything Pearl was taught flies out the window.

Raised in the wild and schooled on the mean streets of New Orleans, Diamonds is no stranger to hard times and is willing to do whatever it takes to stay above the poverty line, including kill. When a robbery turned mass murder goes wrong, Diamonds is forced to flee New Orleans and lands in New York where he meets Pearl, and for the first time finds something he craves more than wealth and power…love.
As the stakes get higher, Diamonds has to push away his past if he's to grab hold of his future—but by doing so, will he show Pearl that all that glitters isn't gold?
About the Author
---
K'WAN is the #1 Essence bestselling author of Welfare Wifeys, Section 8, Gutter, Still Hood, Hood Rat, and others. He wrote his first novel, Gangsta, as a therapeutic release, and it went on to become an Essence bestseller and a part of urban-lit history. In 2008 he received the Black Author of the Year Award from Black Press Radio. He has been featured in Time, KING, The New York Press, and on MTV and BET. Besides an author, K'wan is also a motivational speaker, a mentor to at-risk children and the C.E.O of Black Dawn, Inc. He lives in New Jersey.
Praise For…
---
"Top-notch street lit...one of the top urban fiction novels of the year." - Library Journal Starred Review on Diamonds and Pearl