China Mountain Zhang (Paperback)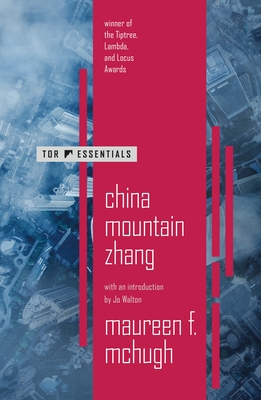 Description
---
"A first novel this good gives every reader a chance to share in the pleasure of discovery; to my mind, Ms. McHugh's achievement recalls the best work of Delany and Robinson without being in the least derivative." —The New York Times
Immediately recognized as a groundbreaking work on its first publication in 1992, China Mountain Zhang was shortlisted for the Hugo and Nebula Awards and won the Lambda Literary Award, the Tiptree Memorial Award, and the Locus Award for Best First Novel.
After the Second Great Depression and the American Liberation War, the US has been left as a satellite state of China. In this somewhat but not entirely regimented world, young New York construction engineer Zhang Zhongshan must find his way in a society that disapproves both of his cultural heritage and his sexual identity. Because not everyone can change the world—sometimes, the ultimate challenge is to find a way to live in it. China Mountain Zhang presents a macroscopic world of microscopic intensity, one of the most brilliant visions in modern science fiction.
This new Tor Essentials edition of China Mountain Zhang includes an introduction by the Hugo, Nebula, and World Fantasy Award-winning Jo Walton, author of Among Others.
"Maureen McHugh has mastered the trick of astonishing the reader with what futuristic characters take most for granted." —The Washington Post
About the Author
---
With her groundbreaking novel, China Mountain Zhang, Maureen F. McHugh established herself as one of the decade's best science fiction writers. She is the winner of the James Tiptree, Jr. Memorial Award, the Lambda Literary Award, the Locus Award for Best First Novel, and a Hugo and Nebula Award nominee.

Jo Walton won the John W. Campbell Award for Best New Writer on publication of her debut novel The King's Peace. She won the World Fantasy Award in 2004 for Tooth and Claw, and in 2012, the Hugo and Nebula Awards for Among Others. In addition to writing SF and fantasy, she has also designed role-playing games and published poetry. Her song "The Lurkers Support Me In Email" has been quoted innumerable times in online discussions all over the world, frequently without attribution. A native of Wales, she lives in Montreal.
Praise For…
---
"A first novel this good gives every reader a chance to share in the pleasure of discovery; to my mind, Ms. McHugh's achievement recalls the best work of Delany and Robinson without being in the least derivative." —The New York Times
"It's a rare writer who produces a novel this good....I can't think of a book that offers a more lived-in future. The people are impulsive, changeable, and very real. Lovers of fine fiction, SF, and otherwise, will treasure this deeply humane book. Five stars." —Minneapolis Star-Tribune