Losing Earth: A Recent History (Paperback)
COVID-19 Update
For now, Prince Books intends to remain open. If you would like a book and don't want to come into the store, please call us with your book request and credit card number, (or place order at prince-books.com), tell us that you would like us to bring your purchase out to your car. Park on Martin's Lane next to the back door, and call us so we can run your purchase out to you.
In the meantime we'll be closing daily at 5 p.m. Thank you for your business!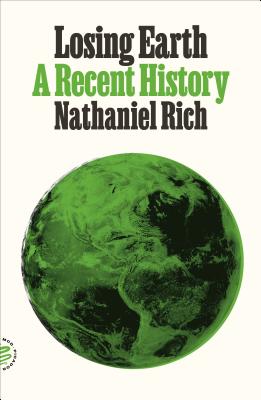 Description
---
By 1979, we knew nearly everything we understand today about climate change—including how to stop it. Over the next decade, a handful of scientists, politicians, and strategists, led by two unlikely heroes, risked their careers in a desperate, escalating campaign to convince the world to act before it was too late. Losing Earth is their story, and ours.
The New York Times Magazine devoted an entire issue to Nathaniel Rich's groundbreaking chronicle of that decade, which became an instant journalistic phenomenon—the subject of news coverage, editorials, and conversations all over the world. In its emphasis on the lives of the people who grappled with the great existential threat of our age, it made vivid the moral dimensions of our shared plight.
Now expanded into book form, Losing Earth tells the human story of climate change in even richer, more intimate terms. It reveals, in previously unreported detail, the birth of climate denialism and the genesis of the fossil fuel industry's coordinated effort to thwart climate policy through misinformation propaganda and political influence. The book carries the story into the present day, wrestling with the long shadow of our past failures and asking crucial questions about how we make sense of our past, our future, and ourselves.
Like John Hersey's Hiroshima and Jonathan Schell's The Fate of the Earth, Losing Earth is the rarest of achievements: a riveting work of dramatic history that articulates a moral framework for understanding how we got here, and how we must go forward.
About the Author
---
Nathaniel Rich is the author of the novels King Zeno, Odds Against Tomorrow, and The Mayor's Tongue. He is a writer at large for The New York Times Magazine and a regular contributor to The Atlantic and The New York Review of Books. He lives in New Orleans.
Praise For…
---
"An eloquent science history, and an urgent eleventh-hour call to save what can be saved." —Barbara Kiser, Nature
"Reading like a Greek tragedy, Losing Earth shows how close we came to making the right choices — if it weren't for our darker angels." —Adam Frank, NPR.org
"Exceedingly well-written . . . a must-read handbook for everyone concerned about our planet's future . . . Losing Earth is eloquent, devastating, and crucial." —Booklist (starred review)
"A maddening book full of what-ifs and the haunting suspicion that if treated as a political problem and not as a matter of life and death, climate change will cook everyone's geese." —Kirkus Reviews
"This deeply researched, deeply felt book is an essential addition to the canon of climate change literature. Others have documented where we are, and speculated about where we might be headed, but the story of how we got here is perhaps the most important one to be told, because it is both a cautionary tale and an unfinished one. Reading this book, I could not help but imagine my children one day reading a future edition, which will include the story of my generation's response to what we knew." —Jonathan Safran Foer, author of Extremely Loud and Incredibly Close
"How to explain the mess we're in? Nathaniel Rich recounts how a crucial decade was squandered. Losing Earth is an important contribution to the record of our heedless age."
—Elizabeth Kolbert, author of The Sixth Extinction
"Combining the dramatic immediacy of a police procedural with the urgency of prophecy, Nathaniel Rich's provocative book chronicles the failure of our scientific and political leaders to act to halt the climate apocalypse when they appeared on the verge of doing so, and casts the triumph of denial as the defining moral crisis for humankind." —Philip Gourevitch, author of We Wish to Inform You That Tomorrow We Will be Killed With Our Families

"In this book, Nathaniel Rich demonstrates exquisitely how shallow debate of a deep problem—the planetary scale and civilizational consequences of climate change—exacerbates the problem. We are still a long way from thinking about climate change in the multi-century frame we need to deal with it realistically. Getting there will be a new skill for humanity, if we get there." —Stewart Brand, author of Whole Earth Discipline
"[Nathaniel] Rich has a talent for translating a complicated issue into a gripping story. And like any effective storyteller, he places compelling characters in the foreground." -LitHub